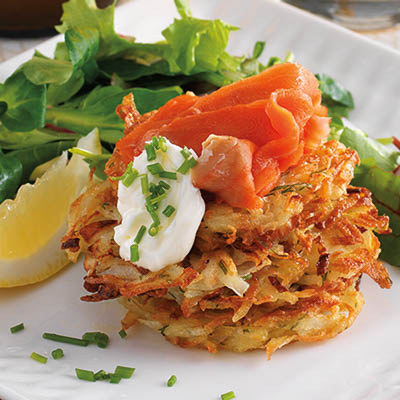 STACKED POTATO LATKES WITH SMOKED SALMON AND CREAM
Ingredients
Serves 4
1¼ lbs (625 g) russet potatoes, about 3 medium-sized
1 tsp (5 ml) fresh lemon juice
½ cup (125 ml) very finely minced yellow onion
1 tsp (5 ml) minced fresh dill
freshly ground black pepper, to taste
½ cup (125 ml) olive oil, plus extra
½ lb (250 g) thinly sliced smoked salmon
½ cup (125 ml) spreadable or whipped plain cream cheese
tossed green salad (optional)
Instructions
Preheat oven to 200 F (95 C). Place a wire rack on a baking sheet and slide into the oven. Line a plate with paper towel and set aside.
Peel potatoes and coarsely grate by hand using the large holes of a hand grater. Transfer to a large bowl of cold water with lemon juice as they are grated. Drain well in a colander and spread out onto a large, clean tea towel along with onion. Roll up jelly-roll style and twist cloth tightly, wringing out as much liquid as possible. Place in a large bowl and stir in egg, dill, lemon zest, salt and pepper.
Using a heavy-bottomed 12-in (30 cm) frying pan, such as cast iron, heat 2 tbsp (30 ml) olive oil until shimmering. Working in batches of 4, ladle 2 tbsp (30 ml) each potato mixture into hot pan, pressing each into 2-in (6 cm) rounds. Cook over medium heat until undersides are golden, about 5 minutes. Gently flip and continue to cook another 5 minutes, or until both sides are fully golden and potatoes are crisp and fully cooked. Remove as they are done to paper towel-lined plate to absorb excess oil. Then transfer to wire rack in oven to keep warm while cooking remaining latkes.
Repeat process 3 more times, heating 2 tbsp (30 ml) oil in pan and cooking 4 latkes at a time. You should have enough potato mixture to make 16 latkes.
To serve, stack 4 latkes on a serving plate. Top with 2 oz (60 g) smoked salmon and a generous dollop of whipped cream cheese. Garnish with lemon wedges and fresh chives. Serve with a tossed green salad alongside, if desired.
Drink Pairings