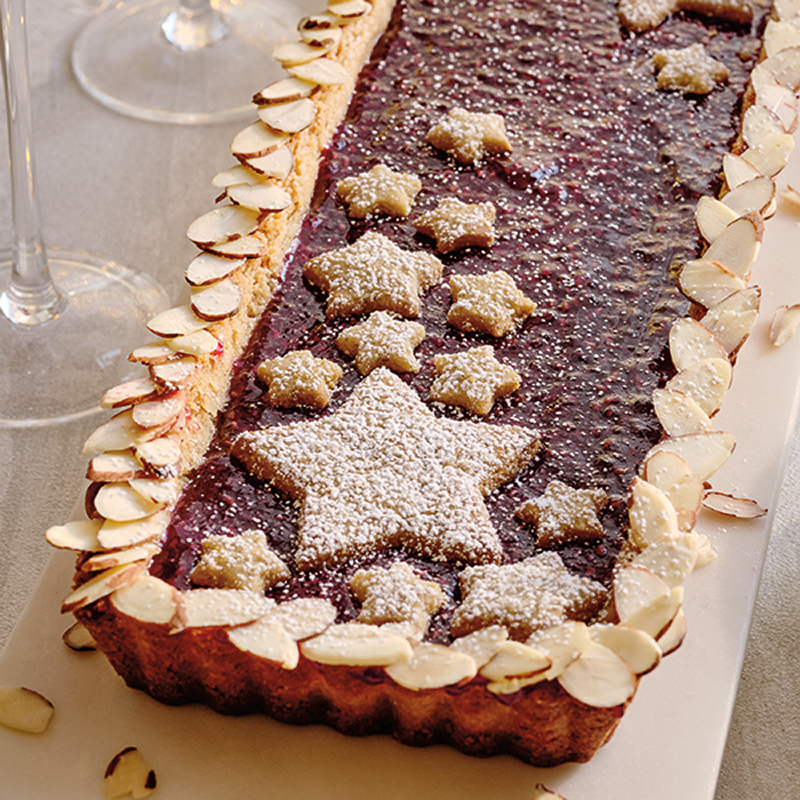 Starry Linzer Torte
Celebrate the festivities of the season an impressive dessert.
Ingredients
Serves 6
1 cup (250 ml) hazelnuts, lightly toasted and skins removed
½ cup (125 ml) blanched almonds
⅔ cup (150 ml) + 2 tsp (10 ml) sugar, divided
1 tsp (5 ml) ground cinnamon
¾ cup (175 ml) butter, chilled + ½-in (1.25 cm) cubed
1 tsp (5 ml) vanilla extract
1½ cups (375 ml) raspberry jam
1 tbsp (15 ml) icing sugar
Instructions
In a food processor, grind together hazelnuts and almonds until fine like powder, about 1 minute. Add sugar, lemon zest, cinnamon, salt and flour and pulse for about 15 seconds.
Add butter and continue pulsing for another 30 seconds.
In a small bowl, mix egg yolks and vanilla. With food processor running, add egg mixture to nut mixture until it forms a dough ball.
Transfer dough to a clean surface and divide into 2. Flatten 1 half into a disk and refrigerate for 30 minutes.
Pull about 2-in (5 cm) chunks of dough from remaining half and scatter into tart pan. Using fingers, press dough to cover bottom and sides of tart pan. Place plastic wrap over dough. Using back of a measuring cup, flatten dough across bottom and push into sides. Remove plastic wrap. Using a sharp knife trim excess dough from top edge of pan. Place in freezer for 30 minutes.
Preheat oven to 350 F (180 C).
Place a large piece of foil over frozen dough in tart pan. Spread pie weights on top to cover surface of tart shell. Loosely cover with foil, to prevent dough from burning in oven.
Bake on centre rack for 30 minutes.
Carefully remove foil and pie weights and allow tart shell to cool completely.
Roll chilled dough disk between two 16-in (40.5 cm) lengths of parchment paper to about ¼-in (0.5 cm) thickness. Refrigerate again for about 15 minutes.
Using star-shaped cookie cutters of various sizes, cut chilled dough into stars. Refrigerate until ready to use.
In a medium bowl, mix raspberry jam and lemon juice. Pour into tart shell and spread evenly across surface.
In a small bowl, mix egg and water to make egg wash. Brush over chilled stars. Sprinkle 2 tsp (10 ml) sugar as desired over stars and place over raspberry jam in tart shell.
Bake for 30 to 40 minutes on middle rack until edges are golden brown.
Cool on wire rack and allow to rest for 2 to 3 hours.
Dust with icing sugar before serving.
Drink Pairings