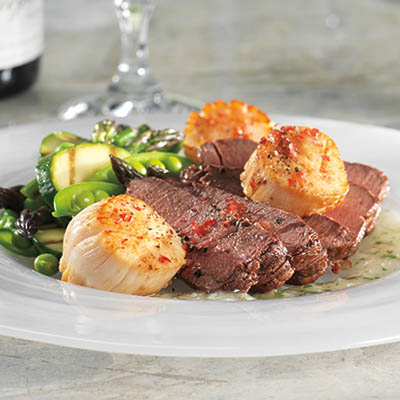 STEAK AND SCALLOPS WITH CHAMPAGNE VANILLA SAUCE
Ingredients
Serves 4
4 beef tenderloin steaks, each about 6 oz (180 g)
salt and black pepper, to taste
2 tbsp (30 ml) grapeseed oil, divided
1 tbsp (15 ml) unsalted butter
3 tbsp (45 ml) finely diced shallot
½ vanilla bean, split in half
1 tbsp (15 ml) lemon juice
2 tsp (10 ml) potato starch
2 tbsp (30 ml) chopped fresh parsley
2 tsp (10 ml) chopped fresh tarragon
crushed pink peppercorns, for garnish
Instructions
Let steaks sit at room temperature for 20 minutes. Season generously with salt and pepper.
Preheat 1 tbsp (15 ml) grapeseed oil in large frying pan or cast iron skillet over medium-high heat. Add steaks and cook turning once until medium rare, about 4 to 5 minutes per side, or until desired doneness. Transfer to plate, cover lightly with foil and set aside while cooking scallops.
Wipe out frying pan, add ½ tbsp (7 ml) grapeseed oil and return to mediumhigh heat. Season scallops with salt and pepper. Add half the scallops to pan and cook turning once until opaque and cooked through, about 1 to 2 minutes per side. Transfer to a plate. Add remaining ½ tbsp (7 ml) grapeseed oil to pan and repeat cooking process with remaining scallops.
To make CHAMPAGNE VANILLA SAUCE: Wipe out frying pan again before warming olive oil and butter over medium heat. Add shallots along with a pinch of salt and cook until soft and translucent, about 2 minutes. Add champagne and vanilla bean, bring sauce to a simmer and cook for 2 minutes. Meanwhile, whisk together lemon juice and potato starch. Add to champagne mixture in frying pan and whisk constantly until slightly thickened, about 1 minute. Remove sauce from heat, remove vanilla bean and stir in parsley and tarragon.
To finish, slice each steak thinly before dividing among serving plates. Arrange 3 scallops around or over top of steak and drizzle with warm Champagne Vanilla Sauce. Garnish with crushed pink peppercorns and serve with your favourite seasonal vegetables alongside.
Drink Pairings