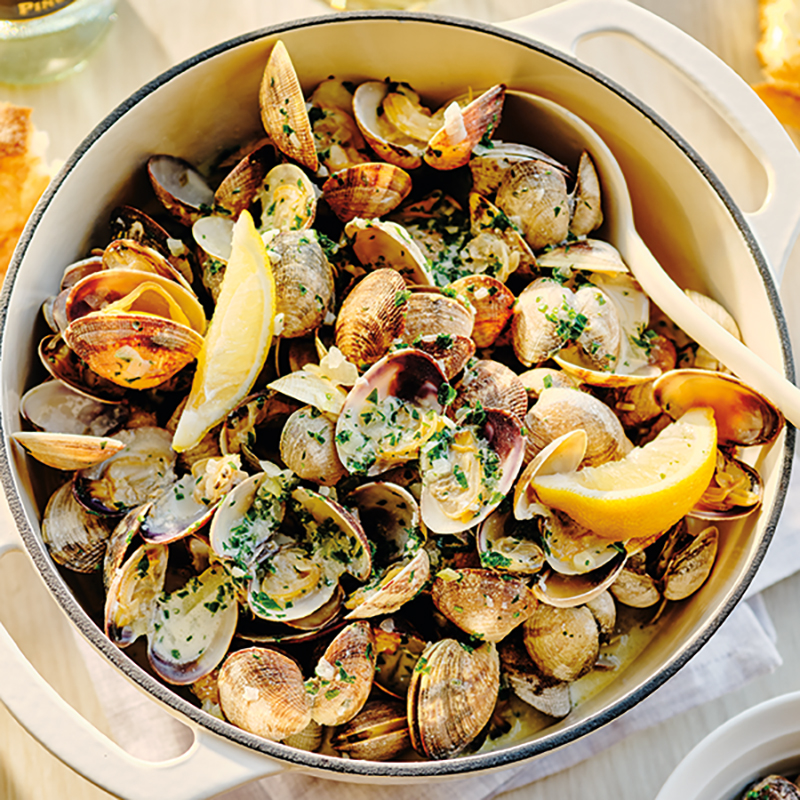 Steamed Clams in White Wine Sauce
Life can be hard, making dinner shouldn't be! These are very simple spring meals.
Ingredients
Serves 4
3 tbsp (45 ml) butter, divided
1 tbsp (15 ml) extra-virgin olive oil
2 garlic cloves, finely chopped
2 shallots, finely chopped
1 fresh chili, finely chopped
1 cup (125 ml) dry white wine
2 cups (250 ml) whipping cream
4 lbs (2 kg) clams, cleaned*
½ bunch flat leaf parsley, chopped
salt and pepper, to taste
loaf of fresh bread, to serve
Instructions
In a large heavy-bottomed saucepan, melt 1 tbsp (15 ml) butter with olive oil over medium heat. Add garlic, shallots and chili and cook until fragrant, about 1 to 2 minutes.
Add white wine and reduce by half.
Add cream and clams and cover with lid. Cook until clams have opened, about 5 to 6 minutes. Discard any clams that have not opened.
Add dill, parsley, remaining butter, juice of half a lemon and salt and pepper, to taste. Stir to combine. Check seasoning of broth and adjust as desired. Serve with sliced or torn bread and remaining lemons.
* To clean clams, fill a large bowl with 4 cups (1 L) cold water, add 1 heaping tablespoon salt and mix until dissolved. Add clams and let sit undisturbed for 20 minutes to 1 hour to purge clams of any sand in them. Remove clams from water and transfer to a sink. Do not just pour clams out, as you would be covering them in sand you just removed. Scrub clams with a stiff-bristled brush under cold running water to remove any dirt or barnacles on shells. Discard any open clams that do not close when you clean them, this means they are dead.
Drink Pairings