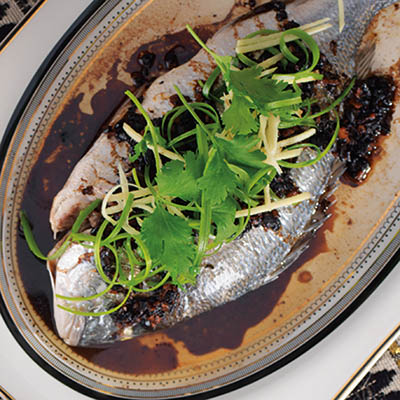 STEAMED FISH WITH BLACK BEAN SAUCE
Ingredients
Serves 4 to 6
2 tbsp (30 ml) Chinese fermented black beans, rinsed and patted dry
6 large garlic cloves, peeled
1½ lb (750 g) white-fleshed fish (sea bass, snapper, cod), scaled and gutted
salt and freshly ground white pepper, to taste
12 slices fresh peeled ginger, 3 left whole, 9 finely julienned
7 green onions, 2 left whole, 2 halved, 3 finely julienned
2 tbsp (30 ml) canola oil
1 handful cilantro, leaves and stems, roughly chopped
¼ tsp (1 ml) chili flakes, plus more, to taste
Instructions
Coarsely chop fermented black beans and mix with garlic in a small bowl. Set aside.
Rinse fish with cold running water and pat inside and out with paper towels. Sprinkle salt and white pepper over and inside fish cavity. Place 3 whole slices ginger along with 2 whole green onions inside cavity.
Spread halved green onions on a heatproof plate large enough to hold the fish and that can fit inside a steamer. Set fish directly on top of green onions to keep fish from making direct contact with the plate.
Steam fish until cooked through, about 10 minutes. Carefully remove plate and pour off any accumulated juices into a bowl, mix in soy sauce and set aside. Transfer fish to a serving platter.
In a wok or small skillet, add canola oil, fermented black bean and chopped garlic mixture and cook over medium-high heat until garlic is soft, about 2 minutes. Add chili flakes, remaining julienned ginger, green onions and chopped cilantro and reserved fish-cooking liquid. Mix quickly and spoon mixture over top of fish.
Drink Pairings