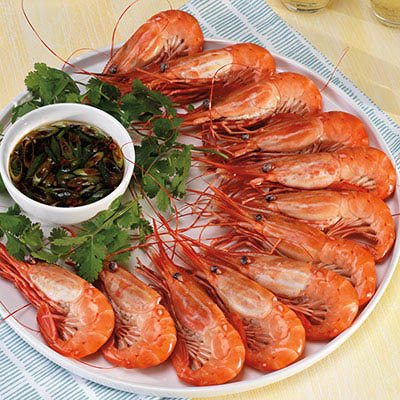 STEAMED SPOT PRAWNS SERVED WITH SPICY SOY SAUCE
Ingredients
Serves 4 as an appetizer
1 tbsp (15 ml) finely minced ginger
1 tbsp (15 ml) finely minced green onion
1 tbsp (15 ml) chopped fresh cilantro
2 serrano chilies, thinly sliced, divided
2 tbsp (30 ml) vegetable oil
1 tbsp (15 ml) Chinese chili oil
2 tbsp (30 ml) light soy sauce
¼ tsp (1 ml) balsamic vinegar
1 lb (500 g) fresh, whole BC spot prawns
2 tbsp (30 ml) Chinese Shaoxing cooking wine
Instructions
To make dipping sauce, in a small saucepan, add minced ginger, minced green onion, cilantro, 1 thinly sliced serrano chili, vegetable oil, chili oil, light soy sauce, water, sugar and balsamic vinegar. Heat until simmering and stir to mix. Remove and allow to cool.
With a pair of sharp kitchen scissors, trim sharp barbs from prawns' heads, clean and rinse under cold water. Set aside.
In a medium stockpot, add 5 cups (1.25 L) water, ginger slices, whole green onions, salt, remaining serrano chili slices and Shaoxing cooking wine. Bring mixture to a boil. Add prawns and stir slowly. Cover and cook until pink, about 2 minutes. Platter and serve with dipping sauce.
Drink Pairings