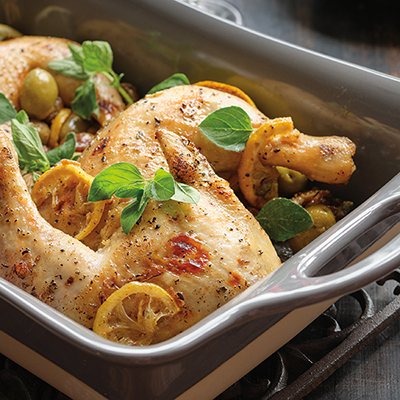 STICKY DATE CHICKEN WITH OLIVES AND LEMON
Ingredients
Serves 4
4 to 6 bone-in, skin-on chicken legs (drumsticks with thighs attached)
salt and pepper, to taste
¼ cup (60 ml) Dijon mustard
¾ cup (175 ml) dry white wine
2 tbsp (30 ml) red wine vinegar
3 tbsp (45 ml) brown sugar
1 tbsp (15 ml) dried oregano
½ cup (125 ml) green olives, pitted if desired
1 cup (250 ml) pitted, chopped dates
½ small lemon, sliced into half moons
3 to 5 sprigs fresh thyme, leaves only
3 to 5 sprigs fresh oregano, leaves only
Instructions
Season chicken all over with salt and pepper.
In a large plastic freezer bag, combine and mix all remaining ingredients except fresh thyme and oregano. Place chicken in bag and make sure it gets evenly coated with marinade. Remove excess air, seal and place in refrigerator for at least 8 hours or up to 24 hours.
Preheat oven to 375 F (190 C).
Place chicken, skin side up, in a casserole dish and coat with remaining marinade over chicken. Roast for 25 minutes, or until internal temperature reaches 165 F (74 C). For extra crispy skin, broil chicken on high for 2 to 3 minutes, watching carefully so it does not burn.
Garnish with fresh thyme and oregano and serve.
Drink Pairings