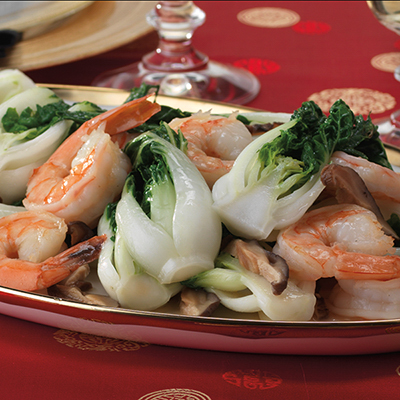 STIR-FRIED BABY BOK CHOY WITH PRAWNS
Ingredients
Serves 6 to 8
2 tbsp (30 ml) light soy sauce
1 tbsp (15 ml) Chinese rice cooking wine or dry sherry
2 tbsp (30 ml) vegetable oil, divided
½ lb (250 g) medium prawns, peeled and deveined
salt and pepper, to taste
1 tbsp (15 ml) finely chopped ginger
1 tsp (5 ml) minced garlic
1 lb (500 g) baby bok choy, rinsed and halved
3 to 4 dried Chinese mushrooms, rehydrated in warm water until soft, drained and cut into ¼-in (0.5 cm) slices
¼ cup (60 ml) chicken stock
Instructions
In a bowl, mix together soy sauce, sugar, sesame oil, rice wine, white pepper and cornstarch. Set aside.
Heat a wok over high heat. When hot, add 1 tbsp (15 ml) vegetable oil. Add prawns and stir-fry just until they become opaque. Season with salt and pepper. Remove from wok and set aside on warm plate.
Return wok to high heat. Add remaining oil, ginger and garlic, Sauté for 10 seconds until fragrant. Add bok choy and mushrooms, stir-fry for 1 minute. Add chicken stock, stir-fry until vibrant and crisp. Add prawns and reserved sauce mixture. Stir-fry until sauce thickens and covers greens and prawns.
Drink Pairings