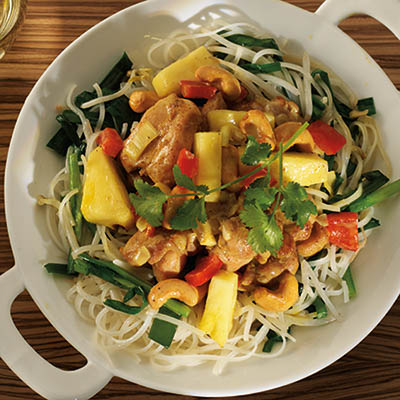 STIR-FRIED CHICKEN WITH PINEAPPLE AND CASHEWS
Ingredients
Serves 4
1½ lbs (750 g) boneless, skinless chicken thighs, cut into 1-in (2.5 cm) pieces
1½ tsp (7 ml) granulated sugar
1 tbsp (15 ml) Madras curry powder
1 tbsp (15 ml) fish sauce
3 tbsp (45 ml) canola oil
2 large shallots, finely chopped
1 to 2 Thai red chilies or Serrano chilies, seeded, finely chopped
2 stalks lemon grass, trimmed and finely chopped, about ⅓ cup (75 ml)
1 medium-sized sweet red pepper, seeded and cut into ½-in (1 cm) dice
¾ cup (175 ml) coconut milk
1 cup (250 ml) fresh pineapple, cut into 1-in (2.5 cm) chunks
½ cup (125 ml) roasted cashews
3 to 4 cilantro sprigs, chopped
Stir-fried Rice Noodles, to serve (optional)
Instructions
In a mixing bowl, add chicken, salt, sugar, curry powder and fish sauce. Mix well to combine. Set aside to marinate at room temperature for 15 minutes or up to ½ hour.
In a large wok or frying pan, heat oil over high heat. Add shallots, chilies and lemon grass and stir-fry until fragrant, about 1 minute. Add chicken mixture and red pepper and stir-fry to mix well. Let chicken cook, undisturbed, for about 1 minute, or until browned. Flip chicken over and cook another minute.
Add coconut milk, lowering heat to simmer, and cook 6 to 7 minutes, stirring, reducing coconut milk until almost evaporated with a hint of sauce. Stir in pineapple chunks and cashews. Mix well to warm through.
Can be served over Stir-fried Rice Noodles (or serve over steamed rice) garnished with cilantro. Serve immediately.
Drink Pairings