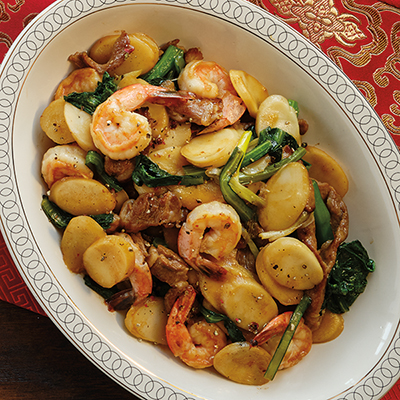 STIR-FRIED RICE CAKES WITH PRAWNS
Ingredients
Serves 4 to 6
1 tsp (5 ml) Shaoxing cooking wine, divided
1 tsp (5 ml) salt, divided
1 tsp (5 ml) sugar, divided
½ tsp (2.5 ml) ground white pepper, divided
5 oz (140 g) pork shoulder, cut into thin strips
2 tbsp (30 ml) vegetable oil
5 oz (140 g) sustainable prawns, deveined
½ bunch choy sum, cut into 1-in (2.5 cm) pieces, blanched and shocked in ice water
15 oz (425 g) flat rice cakes (found at any Asian market)
2 tbsp (30 ml) oyster sauce
Instructions
In a bowl, combine cornstarch, cooking wine, salt, sugar, pepper and pork shoulder. Allow to marinate for ½ hour.
Heat a wok over high heat. Add vegetable oil and garlic and cook for about 30 seconds to 1 minute, or until fragrant. Add pork shoulder in a single layer and allow it to sit until bottom has browned, about 2 to 3 minutes. Turn meat over to cook other side for about 2 minutes.
Add prawns and choy sum and stir-fry for another minute or two, or just until prawns start to turn pink. Add rice cakes, soy sauce and oyster sauce and stir-fry until everything is combined. Cover with a lid and cook just until rice cakes are soft, about 3 to 5 minutes.
Add sesame oil and mix to combine. Serve on a warm platter.
Drink Pairings