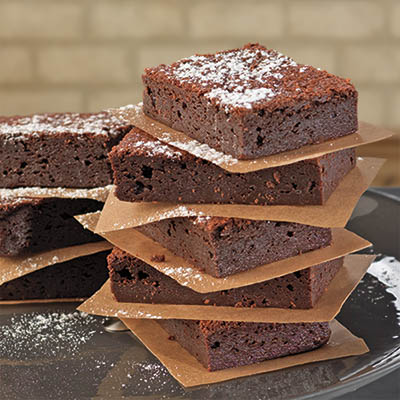 Ingredients
Serves 12 brownies
1 cup (250 ml) unsalted butter
6 oz (180 g) dark chocolate
½ cup (125 ml) stout beer
2 cups (500 ml) granulated sugar
1½ cups (375 ml) all-purpose flour
⅔ cup (150 ml) cocoa powder
1 tsp (5 ml) baking powder
1 tsp (10 ml) vanilla extract
Instructions
Preheat oven to 325 F (160 C). Grease a 9 x 14-in (22 x 35 cm) baking dish and line with parchment.
In a double boiler, melt butter, dark chocolate and stout, stirring just until blended and melted. Remove from simmering water and set aside to slightly cool before adding remaining ingredients.
In a large bowl, sift sugar, flour, cocoa powder, baking powder and salt.
In a small bowl, whisk eggs and vanilla extract. Slowly whisk eggs into slightly cooled, melted chocolate until blended. Add chocolate mixture to flour and fold in using a rubber spatula until no lumps remain. Pour batter into greased pan and smooth the top.
Bake for 30 minutes or until a cake tester inserted in the centre comes out clean. Rotate pan halfway through baking. Remove pan to a wire rack to cool. Then cut into squares and serve.
Drink Pairings