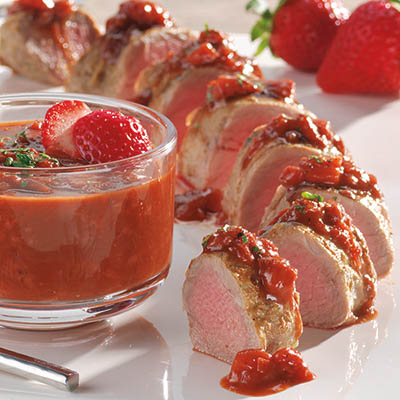 Ingredients
Serves 4
¼ cup (60 ml) apple cider vinegar
salt and pepper, to taste
2 tsp (10 ml) fresh rosemary leaves
2 pork tenderloins, about 1 lb (500 g) total
1 tbsp (15 ml) grapeseed oil
1 large shallot, finely diced
2 tbsp (30 ml) canned tomato paste
1 tbsp (15 ml) light brown sugar
2 tbsp (30 ml) red wine vinegar
2 tbsp (30 ml) Worcestershire sauce
½ tsp (2 ml) sweet smoked paprika
2 cups (500 ml) diced strawberries, plus extra for serving
1 tbsp (15 ml) lemon juice
Instructions
In a blender, mix first 5 ingredients until well combined. Place pork tenderloin in a resealable plastic bag and pour in blended mixture. Refrigerate at least 2 hours up to overnight.
Preheat grill over medium-high heat.
Remove tenderloin from marinade and let rest at room temperature for 20 minutes.
In a medium saucepan over medium heat, heat grapeseed oil. Add shallots and sauté until starting to caramelize, about 3 minutes. Stir in tomato paste, water, sugar, red wine vinegar, Worcestershire, cayenne and paprika. Bring to a simmer and cook, stirring frequently for 10 minutes. Stir in strawberries and lemon juice and continue to cook until strawberries have softened and sauce is thick yet pourable, about 10 minutes. Remove from heat and set aside.
Place pork on grill, and cook, turning frequently, until an instant-read thermometer reads 140 F (60 C) at tenderloin's thickest point, about 12 minutes total. Transfer to a cutting board and let rest 10 minutes.
To serve, slice loin into medallions and transfer to a platter. Top with some strawberry barbeque sauce before garnishing with diced strawberries, if desired. Serve while warm.
Drink Pairings