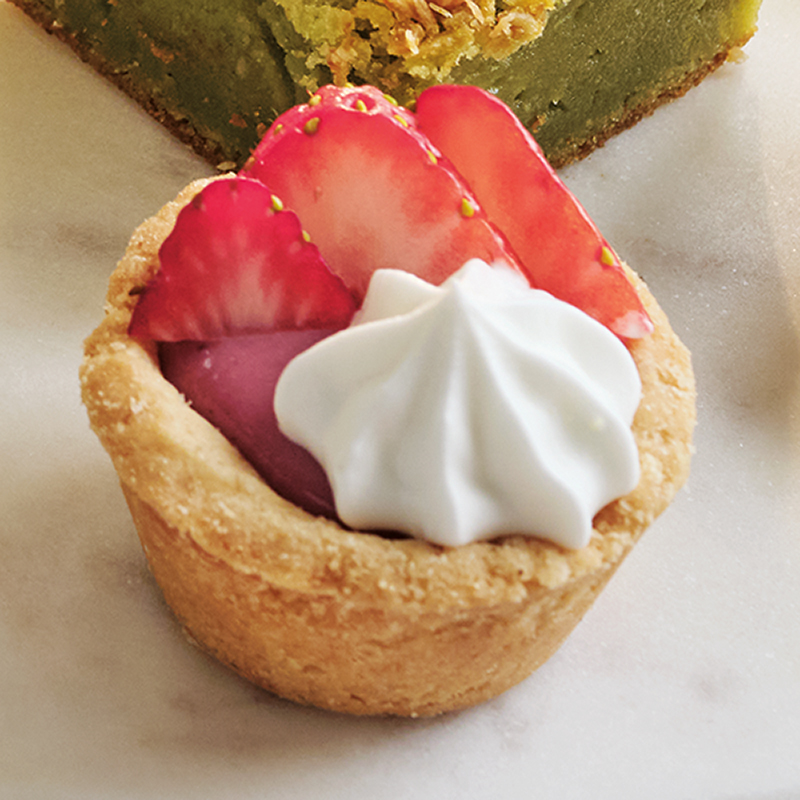 Strawberry Hibiscus Curd Tarts
Ingredients
Serves about 30 tarts
¾ lb (340 g) strawberries, plus extra sliced strawberries for garnish (optional)
1 cup (250 ml) granulated sugar, divided
1½ tbsp (22 ml) dried hibiscus flowers
3 large eggs + 2 large egg yolks
2 tbsp (30 ml) lime juice
6 tbsp + ½ cup (90 + 125 ml) unsalted butter, cut into cubes, divided
¼ tsp (1 ml) fine sea salt
1 tsp (5 ml) vanilla extract
½ tsp (2.5 ml) almond extract
1½ cups (375 ml) all-purpose flour
¾ cup (175 ml) almond flour
½ cup (125 ml) whipping cream
Instructions
Start by making strawberry hibiscus curd. In a blender, purée strawberries until smooth. Pass strawberry purée through a fine mesh sieve into a bowl, discarding whatever remains in sieve. You should have at least ¾ cup (175 ml) purée. Set aside.
Pulse ½ cup (125 ml) sugar and dried hibiscus in a food processor until hibiscus is finely ground.
Prepare a double boiler by fitting a heatproof bowl over a large pot filled with at least 1-in (2.5 cm) simmering water. Take care that bowl does not touch water. Remove bowl to a work surface, and in it whisk together hibiscus-sugar, ¾ cup (175 ml) strawberry purée, eggs, egg yolks, lime juice and cornstarch. Return bowl to pot of water and adjust heat to medium-high. Cook, whisking continuously, until mixture thickens and reaches 170 F (77 C) on a thermometer, about 4 to 5 minutes. Remove bowl from heat and strain curd through a fine mesh sieve into a medium bowl, using a rubber spatula to push as much through sieve as possible. Discard anything remaining in sieve. Add 6 tbsp (90 ml) butter, 1 cube at a time, to the warm curd, whisking to make sure each piece is fully melted and incorporated before adding next piece. Cover entire surface of curd with plastic wrap and refrigerate while making tart shells.
Preheat oven to 350 F (180 C).
In a stand mixer fitted with the paddle attachment, beat together remaining ½ cup (125 ml) sugar, ½ cup (125 ml) butter, salt, vanilla extract and almond extract until well combined. Add flours and continue stirring on low speed until mixture clings together when squeezed. Press a firmly packed, rounded tablespoon of crust mixture into bottom and up sides of each cup in a mini muffin pan. Place muffin pan in freezer for 15 minutes. Transfer to oven and bake until tart shells are golden brown, about 12 to 18 minutes. Transfer pan to a wire rack and let tart shells cool in pan to room temperature.
Once cooled, carefully remove tart shells from muffin pan and place on a platter. Divide curd evenly into shells and refrigerate for at least 1 hour or up to 1 day before serving.
To serve, whip cream to soft peaks. Place a dollop of cream on each tart and garnish with some sliced strawberry, if desired.
Drink Pairings