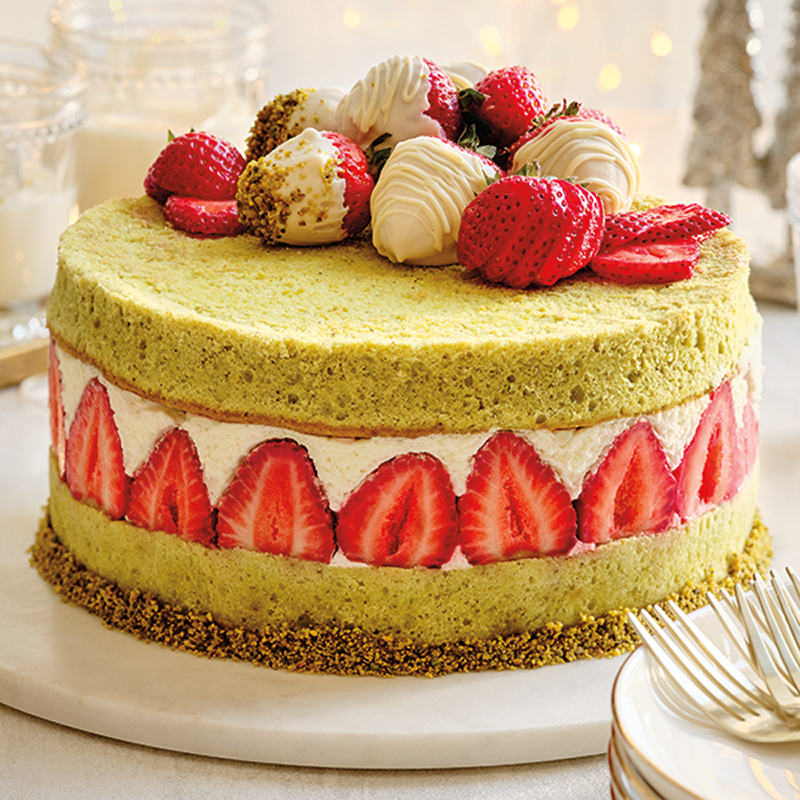 Strawberry Pistachio Cake
Celebrate the festivities of the season an impressive dessert.
Ingredients
Serves 6 - 8
1 cup (250 ml) chopped strawberries
3 tbsp (45 ml) + 6 oz (180 g)* sugar, divided
2 tbsp (30 ml) + ¼ cup (60 ml) hot water
1 cup (250 ml) shelled pistachios, reserve 3 tbsp (45 ml) for garnish
2 tsp (10 ml) baking powder
½ tsp (2.5 ml) almond extract
½ cup (125 ml) vegetable oil
¾ cup (175 ml) buttermilk
1 drop green food colour (optional)
5 oz (140 g) white chocolate, finely chopped
4 oz (125 g) cream cheese, softened
1 cup (250 ml) whipping cream
12 strawberries, hulled and halved
strawberries and white chocolate-dipped strawberries, for garnish
Instructions
In a medium bowl, combine chopped strawberries, 1 tbsp (15ml) sugar and a pinch of salt. Let rest at room temperature for 1 hour to macerate. Set aside.
In a small heatproof bowl, mix 2 tbsp (30 ml) hot water and 2 tbsp (30 ml) sugar until sugar is fully melted. Set this simple syrup aside until ready to use.
Preheat oven to 350 F (180 C).
Grease and dust two 9-in (23 cm) round cake pans with flour. Line bottom of pans with parchment paper.
Using a food processor, in 10 second bursts, grind pistachios to a fine powder, not a paste. Sieve through strainer and reserve coarser pieces for garnish, about 3 tbsp (45 ml).
In a medium bowl, mix flour, baking powder and remaining sieved, ground pistachios.
In a large bowl, whisk together egg yolks, almond essence, 3 oz (90 g)* sugar, vegetable oil and buttermilk until smooth and fully incorporated.
Fold in flour mixture and food colouring, if using, until well incorporated. Set aside.
Using a hand mixer, whisk together egg whites until frothy. Add 3 oz (90 g)* sugar, then increase speed to high and whisk until stiff peaks form.
Fold ⅓ of whipped egg whites into pistachio batter until no white streaks remain. Fold in remaining egg whites until fully incorporated.
Divide batter evenly between prepared cake pans and bake a until toothpick inserted in centre of cake comes out dry, about 25 to 30 minutes.
Remove from oven and invert onto wire rack to cool completely. Discard parchment paper.
In a small bowl, add gelatin to water and allow to bloom for about 10 minutes.
In a heatproof bowl, melt white chocolate over small saucepan with simmering water, stirring constantly. Do not allow simmering water to touch bottom of bowl with white chocolate. When melted, remove from heat and whisk well until smooth. Cool slightly.
In a medium bowl, whisk cream cheese until no lumps remain. Melt gelatin in microwave on medium strength for 10 seconds, stir well and add to cream cheese. Pour melted white chocolate over cream cheese and mix until fully incorporated. Set aside to cool.
In a medium bowl, whisk cream until soft peaks hold their shape. Fold in ⅓ of whipped cream into cream cheese mixture until no white streak remain. Fold in remaining whipped cream until incorporated. Do not overbeat.
Using a sharp knife, cut edges of cake into 8-in (20 cm) circles. Lightly grease bottom and sides of an 8-in (20 cm) springform pan. Line bottom with parchment paper and sides with acetate paper. Secure top of acetate paper where ends overlap with a small piece of adhesive tape.
Place 1 cake circle at bottom of pan. Using a pastry brush, lightly brush surface of cake with prepared simple syrup. Line edge of cake with halved strawberries, pointy end up.
Fill a small piping bag with about ½ cup (125 ml) of white chocolate mousse and pipe around strawberries along acetate paper.
Reserve 1 cup (250 ml) white chocolate mousse. In a large bowl, fold macerated strawberries into remaining mousse. Pour over cake. Evenly sprinkle 1 tbsp (15 ml) ground pistachios over surface.
Cover with second cake circle. Refrigerate overnight or at least 6 hours.
When ready to serve, remove cake from springform pan and slowly peel away acetate paper. Decorate surface as desired with fresh and white chocolate-dipped strawberries on top of cake and reserved coarsely ground pistachios at base.
Drink Pairings