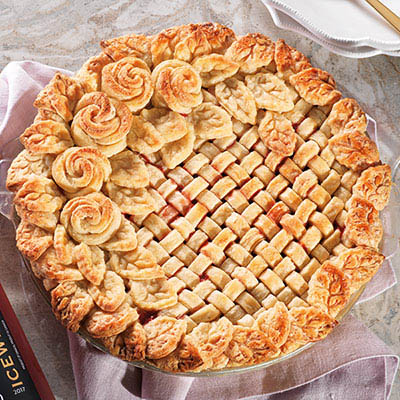 Ingredients
Serves 6 to 8
6 tbsp (90 ml) water, divided
4 cups (1 L) pastry flour or all-purpose
flour, plus more for dusting
½ tsp (2 ml) salt, divided
1¼ cups + 2 tbsp (310 ml + 30 ml) sugar, divided
½ lb + 3 tbsp (250 g + 45 ml) butter, chilled, divided
½ lb (250 g) vegetable shortening or margarine, chilled, cut into 1-in x ½-in (2.5 cm x 1.25 cm) squares
3½ cups (875 ml) strawberries, halved
3½ cups (875 ml) chopped rhubarb (1-in (2.5 cm) chunks)
⅓ cup (75 ml) minute tapioca
Instructions
In a cup, lightly whisk 2 eggs, vinegar and 3 tbsp (45 ml) water. Cover and place in freezer for about 20 minutes while making pastry.
In a bowl, whisk together flour, ¼ tsp (1 ml) salt and 2 tbsp (30 ml) sugar. Invert contents on clean countertop. Cut ½ lb (250 g) chilled butter into 1-in x ½-in (2.5 cm x 1.25 cm) squares and scatter evenly over flour mixture along with chilled shortening squares. Using pastry cutter or blunt knife, cut butter and shortening into flour until mixture resembles dry oatmeal. Create a well in middle of flour mixture and slowly pour in chilled egg mixture, a little at a time, and incorporate flour. Form dough into a ball using fingertips, keeping dough as cool as possible by trying not to use palms of hands. If sticky, dust tiny amounts of flour. Divide into 3 equal portions, cover with plastic wrap and let rest in refrigerator for about 30 minutes.
When ready to bake, preheat oven to 425 F (220 C).
In a large bowl, mix together strawberries, rhubarb, 1¼ cup (310 ml) sugar, lemon zest, lemon juice, cinnamon, ¼ tsp (1 ml) salt and tapioca. Let rest for about 15 minutes.
Remove 2 portions of chilled dough and place on a clean, lightly dusted countertop for about 10 minutes. Roll 1 portion into a round circle to cover base and sides of 9-in (23 cm) pie plate with a 1-in (2.5 cm) overhang. Using a fork, poke holes on bottom and sides of pie shell. Stir strawberry rhubarb mixture and pour into prepared pie shell. Cut 3 tbsp (60 ml) chilled butter into ½-in (1.25 cm) cubes and scatter evenly over filling.
Prepare egg wash by lightly whisking 1 egg and 3 tbsp (45 ml) water together. Lightly brush egg wash along rim of pie shell.
On a clean, well-floured surface, roll second portion of pie crust to about ¼-in (0.5 cm) thickness. Cut into strips and weave over pie into lattice, as desired. Press edges firmly together to form a seam. Leaving 1-in (2.5 cm) rim along circumference of pie, cut excess pastry away. Roll trimmed rim under seam to form a neat border. Lightly brush surface with egg wash.
On a clean, well-floured surface, roll third portion of pie crust to about ¼-in (0.5 cm) thickness and cut out leaves or flowers and decorate over lattice as desired. Brush lightly with egg wash. Discard any remaining egg wash.
Bake on bottom rack of oven for 20 minutes. Reduce temperature to 350 F (180 C) and bake for another 50 to 60 minutes until surface is golden brown in colour. Remove from oven and let rest for at least 4 hours before serving.
Drink Pairings