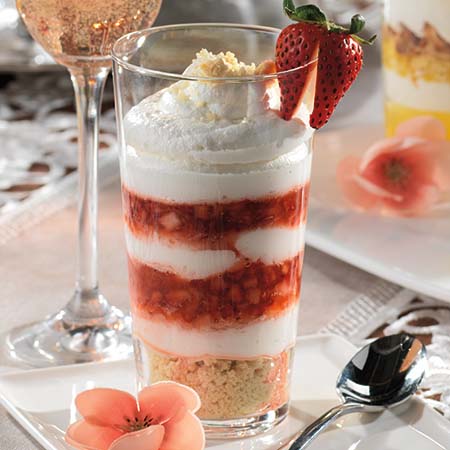 STRAWBERRY SHORTCAKE PARFAITS
Ingredients
Serves 8
1 cup (250 ml) whipping cream
¼ cup + 2 tbsp (60 ml + 30 ml) berry sugar, divided
½ cup (125 ml) full fat plain Greek yogurt
4 cups (1 L) fresh strawberries, hulled and quartered
1 tbsp (15 ml) Chambord raspberry liqueur, optional
8 shortbread cookies, crushed
8 small perfect strawberries, for garnish
Instructions
Place whipping cream in a large chilled mixing bowl. With an electric mixer, whip cream until soft peaks form. Gradually beat in ¼ cup (60 ml) sugar until firm peaks form. Fold in yogurt and lemon zest. Transfer to a piping bag filled with a 1A piping tip and refrigerate while preparing strawberries.
Place half the strawberries in a large bowl. Crush with a fork or a pastry blender until mashed. Add remaining 2 tbsp (30 ml) sugar, liqueur and cinnamon and stir in to blend. Very finely dice remaining strawberries and fold into mashed berries.
To assemble, line up 8 x 6 oz (175 ml) glasses. Place a crushed shortbread cookie in the bottom of each glass reserving a few crumbs for garnish. Pipe about 2 tbsp (30 ml) cream on top of shortbread crumbs followed by a layer of crushed strawberry mixture. Repeat with another layer of cream and strawberries and ending with piped cream. Dust with shortbread crumbs and garnish with a berry. Refrigerate until ready to serve. Best served the same day.
Drink Pairings