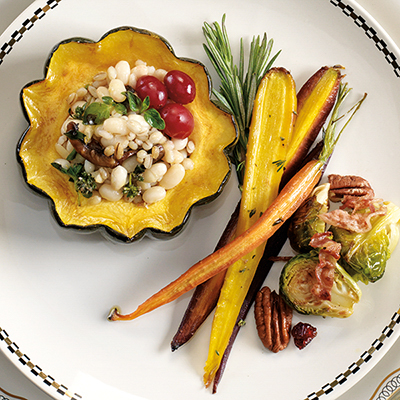 Ingredients
Serves 4
2 acorn squash, sliced into thick rounds, seeds removed
4 tbsp (60 ml) olive oil, divided
salt and pepper, to taste
½ cup (125 ml) mushrooms, chopped
½ cup (125 ml) shallots, finely chopped
1 cup (250 ml) canned white beans
2 tbsp (30 ml) chopped sage
1 cup (250 ml) cooked barley
2 tbsp (30 ml) melted butter or olive oil
Instructions
Preheat oven to 375 F (190 C).
Arrange sliced squash on baking sheet and brush meat of squash with 2 tbsp (30 ml) olive oil and season with salt and pepper. Bake for 45 minutes.
To make stuffing, in a skillet, sauté mushrooms and shallots in remaining olive oil until shallots become translucent. Add white beans, sage and salt and pepper, to taste.
n a large bowl, combine cooked barley with mushroom mixture, gently blend. On baking sheet, fill pre-baked squash with stuffing. Drizzle with melted butter or olive oil, and bake for another 10 minutes. Platter and serve with Thanksgiving dinner.
Drink Pairings