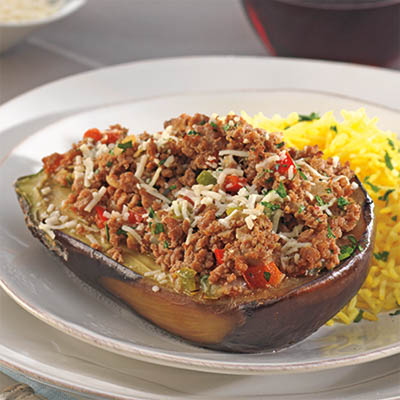 STUFFED EGGPLANT WITH LAMB SERVED WITH SAFFRON RICE
Ingredients
Serves 4 to 6
3 medium-sized Italian eggplants
1 large yellow onion, peeled and finely chopped
½ tsp (2 ml) each, crushed red pepper and dried oregano
3 garlic cloves, finely chopped
3 to 4 ripe plum tomatoes, blanched, peeled, seeded and chopped
1 green bell pepper, cored, seeded and cut into ½-in (1.25 cm) dice
1 red bell pepper, cored, seeded and cut into ½-in (1.25 cm) dice
salt and freshly ground black pepper, to taste
½ cup (125 ml) flat-leaf parsley, finely chopped
2 tbsp (30 ml) lemon juice
2 tbsp (30 ml) tomato paste
¼ cup (50 ml) grated Parmesan
2 cups (500 ml) long grain or basmati rice
1 small yellow onion, peeled and finely chopped
3 large pinches saffron threads
3¾ cups (925 ml) chicken stock
Instructions
Peel eggplant lengthwise in ½-in (1.25 cm) strips "zebra-style," leaving a ½-in (1.25 cm) strip of skin between each peel. Cut eggplant in half, lengthwise, and score the inner flat surface a few times with the tip of a paring knife
Heat olive oil in a large deep frying pan. In batches, fry eggplant, flat-side down first, until golden and begins to soften. Turn frequently. Place eggplant on a paper towel-lined baking sheet to drain, then transfer to a single layer in a large baking dish. Cut a deep slit lengthwise in each eggplant. Set aside.
Preheat oven to 350 F (180 C).
Heat butter in frying pan and add onion, red pepper and oregano. Sauté until soft and fragrant, about 5 minutes. Add garlic and sauté for 2 more minutes. Add lamb and cook for 10 minutes, breaking up meat with a fork to separate. Add tomatoes and bell peppers. Season with salt and pepper and sauté until all juices have evaporated, about 5 more minutes. Mix in parsley and lemon juice. Remove from heat and allow to cool slightly.
Stuff eggplant tightly with lamb mixture, enlarging eggplant opening with your hand. In a small bowl, mix together water and tomato paste and pour into baking dish around eggplant. Sprinkle eggplant with Parmesan. Cover and bake 30 to 40 minutes, or until tender.
To make SAFFRON RICE: Rinse rice in cold water three to four times until water is clear. Drain and set aside.
In a heavy saucepan, heat butter and olive oil over medium heat. Add onion and saffron and sauté until onion is translucent and mixture is fragrant. Add drained rice and stir well to absorb, about a minute. Add chicken stock and bring to a boil. Cover tightly with a lid, reduce heat to low and simmer, about 20 minutes. Do not lift lid until rice is cooked. Fluff rice with fork and serve immediately. Makes about 6 cups (1.5 L).
Drink Pairings