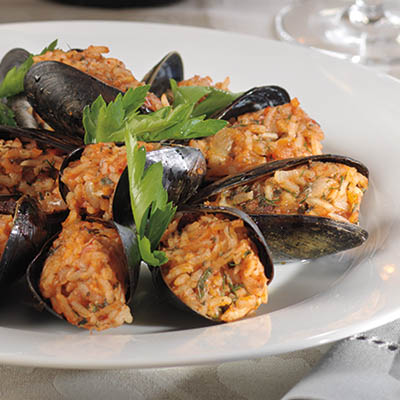 Ingredients
Serves 24 mussels
¼ cup (60 ml) extra-virgin olive oil
½ yellow onion, peeled and finely chopped
1 cup (250 ml) canned puréed tomatoes
1 tbsp (15 ml) tomato paste
1 roasted red bell pepper, puréed
½ cup (125 ml) basmati rice, rinsed and soaked in water for 10 minutes and drained
1 tbsp (15 ml) each, finely chopped mint and finely chopped dill
24 mussels, scrubbed, discarding any that remain open when tapped
1 tbsp (15 ml) flat-leaf parsley, roughly chopped
Instructions
Heat oil in a medium-sized saucepan. Add onions and garlic and sweat over medium heat, stirring occasionally, until soft and translucent. Add puréed tomatoes, tomato paste, red pepper and rice. Add just enough boiling water to cover rice and simmer, uncovered, until liquid is absorbed and rice is tender. Remove from heat. Cool, and fold in currants, mint and dill.
Heat a large, heavy-bottomed saucepan with a lid over mediumhigh heat. Add mussels and wine. Cover and steam just until mussels have started to open, so that you can easily stuff them. Do not fully cook. Remove the mussels from saucepan and lay them in a single layer on a baking tray, discarding any that did not open. Reserve liquid in pan and set aside.
Once mussels are cool enough to handle, use a small paring knife to cut each one through the muscle that attaches to the inside shell. Stuff each mussel with about 2 tbsp (30 ml) of the rice mixture.
Return stuffed mussels to saucepan in a single layer with reserved liquid. Cover tightly and cook over medium heat for another 5 minutes.
This dish can be served warm or cold. Garnish with chopped parsley and lemon wedges.
Drink Pairings