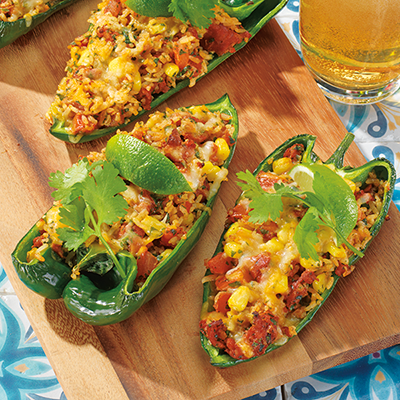 Ingredients
Serves 4 to 6
2 garlic cloves, finely chopped
½ white onion, finely chopped
¾ lb (340 g) fresh chorizo sausage, casings removed
1 tsp (5 ml) ground cumin
1 tbsp (15 ml) ancho chili powder or 1 to 2 chipotle chilies, finely chopped
4 Roma tomatoes, seeded, ½-in (1.25 cm) diced
2 cups (500 ml) cooked rice
1 cup (250 ml) frozen or fresh corn kernels
2 cups (500 ml) Mexican blend cheese (Monterey Jack and Cheddar blend), divided
½ cup (125 ml) chopped cilantro
4 to 6 poblano chilies, halved lengthwise and seeded
Instructions
Preheat oven to 350 F (180 C).
In a skillet over medium-high heat, heat olive oil. Add garlic and onion, sauté until soft but not browning, about 3 to 4 minutes. Add chorizo and cook until browned and broken into small pieces. Stir in cumin, chili powder and tomatoes. Cook until tomatoes are softened, about 3 to 4 minutes. Remove skillet from heat. Stir in rice, corn, half of the cheese and cilantro and mix until well blended.
Fill poblano pepper halves with chorizo rice mixture. Place peppers in a baking dish and sprinkle remaining cheese over top. Pour water into bottom of dish then cover loosely with foil. Bake until peppers are tender, about 45 minutes to 1 hour.
Drink Pairings