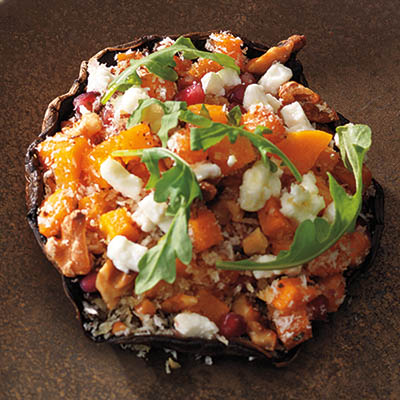 Ingredients
Serves 4
2 tbsp (30 ml) extra-virgin olive oil, divided
2 tsp (10 ml) pure maple syrup
2 tsp (10 ml) finely minced fresh sage
2 tsp (10 ml) freshly minced oregano
4 large portobellos, stems removed, gills scraped out
¼ cup (60 ml) fresh pomegranate seeds
¼ cup (60 ml) panko bread crumbs
¼ cup (60 ml) chopped walnuts, toasted
¼ cup (60 ml) crumbled plain goat's cheese, plus extra for garnish
salt and freshly ground black pepper
1 cup (250 ml) baby arugula, washed, dried
2 tsp (10 ml) extra-aged balsamic vinegar
Instructions
Preheat oven to 375 F (190 C) and line a baking sheet with parchment paper.
Peel stem end of squash and cut into ¼-in (0.5 cm) dice. Toss with 2 tsp (10 ml) oil, maple syrup and sage. Spread out onto prepared baking sheet in single layer. Bake in oven for 10 minutes or until cubes are tender but firm when pierced. Remove sheet to cooling rack and set aside. Should yield 2 cups (500 ml) small dice.
Crush garlic clove and finely mince. Add to small bowl and stir in 1 tsp (5 ml) oil and oregano. Brush insides and outsides of portobellos with garlic-oil mixture. Place stem-side up on a parchment-lined baking sheet.
In a bowl, toss together pomegranate seeds, bread crumbs and toasted walnuts. Add roasted squash and 1 tbsp (15 ml) oil, toss then fill each mushroom cap with mixture. Dollop with crumbled goat's cheese. Season with salt and pepper. Bake in oven for 20 to 25 minutes or until mushrooms are still somewhat firm but tops are golden
When ready to serve, dress tops of mushrooms with arugula. Drizzle with balsamic, a little of remaining oil, a few more crumbles of goat's cheese. Season with salt and pepper.
Drink Pairings