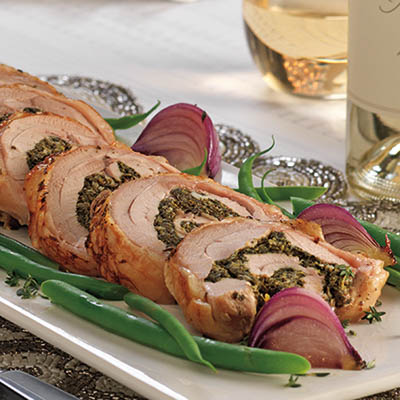 Ingredients
Serves 12
1 lb (500 g) package chopped frozen spinach, thawed
1 tbsp (15 ml) unsalted butter
1 small yellow onion, peeled and minced
1 large garlic clove, smashed and minced
½ lb (250 g) quark cheese
1 tsp (5 ml) ground cumin
¼ tsp (1 ml) ground coriander
3 boneless turkey thighs, skin on, about 3 lbs (750 g)
2 tbsp (30 ml) unsalted butter, melted, plus extra if needed
2 tbsp (30 ml) all-purpose flour
2 cups (500 mL) turkey or chicken stock
1 tbsp (15 ml) Dijon mustard
1 tbsp (15 ml) light miso paste
Instructions
To make TURKEY STUFFING: Place thawed spinach in cheesecloth and wring out as much liquid as possible. Place in a food processor and set aside. Melt butter in a frying pan, add onion and garlic and sauté over medium heat, until soft and clear. Do not brown. Transfer to food processor with spinach. Add quark, lime and seasonings. Pulse together until finely minced. Set aside. Can be made ahead and refrigerated overnight.
To make TURKEY AND GRAVY: Preheat oven to 400 F (200 C). Place thighs, skin-side down, on a cutting board. Cut each thigh open parallel to board. Pound thighs with a mallet to partially flatten.
Spread equal amounts of Turkey Stuffing evenly over each thigh, leaving at least a 1½-in (4 cm) border around each edge. Roll up thighs, pulling skin as tightly as possible to seal. Tie with butcher twine and place, seam-side down, in a large, oiled baking pan. Brush with butter. Season with salt and pepper. Bake for 20 minutes. Reduce heat to 325 F (165 C) and roast until internal temperature on a meat thermometer inserted into meat portion reads 165 F (75 C). Remove from pan, cover with foil to rest while preparing sauce.
Place baking pan on stove top. Scrape turkey drippings to loosen. Sprinkle with flour and whisk over medium-low heat until crumbly and turns golden. Gradually whisk in stock and Dijon. Continue whisking over medium heat until thickened. Whisk in light miso paste, add salt and pepper to taste, if needed. Stir in a splash of cider vinegar and strain gravy through a fine-meshed sieve into a serving container.
Slice rolled thighs crosswise, drizzle with gravy.
Drink Pairings