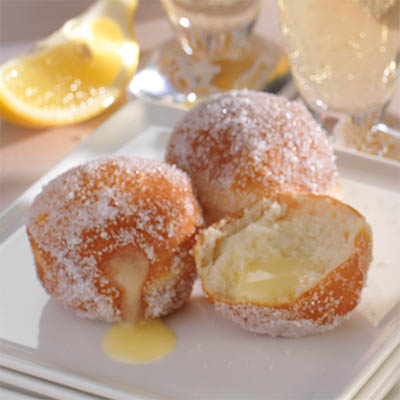 SUGAR-COATED LEMON FRITAS
Ingredients
Serves 24
2½ tsp (8 g package) traditional dry yeast
⅔ cup (150 ml) whole milk, at room temperature
3½ cups (875 ml) all-purpose flour
⅓ cup (75 ml) granulated sugar
3 eggs, at room temperature
2 tsp (10 ml) kosher salt
7 tbsp (105 ml) unsalted butter, at room temperature
canola oil, for deep fryer
¾ cup (175 ml) granulated sugar
½ cup (125 ml) unsalted butter, at room temperature
2 tbsp (30 ml) original plain cream cheese, at room temperature
2 large eggs, at room temperature
¼ cup (60 ml) fresh lemon juice
1 generous pinch kosher salt
Instructions
For Fritas dough, in bowl of electric mixer fitted with paddle attachment, stir yeast and milk together. Let stand until yeast is dissolved, about 1 minute. Add flour, sugar, eggs, lemon zest and salt. Mix on low speed just until ingredients are blended. Remove paddle and attach dough hook. Mix dough until it begins to pull away from sides of bowl. Blend in butter, 1 tbsp (15 ml) at a time, until fully mixed in and dough is soft. About 5 minutes. Transfer dough to a large sheet of plastic wrap. Tightly seal and refrigerate at least 6 hours or overnight.
Meanwhile, prepare LEMON CREAM FILLING: Combine all ingredients in a food processor fitted with metal blade. Pulse until mixture is smooth and no lumps remain. Transfer to a heavy-bottomed saucepan and cook over low heat, stirring constantly, until thickened. Temperature should be about 170 F (75 C). Remove from heat. Press a piece of plastic wrap onto surface and refrigerate until cold.
To make FRITAS: Line 2 baking sheets with parchment paper, spray with cooking oil. Roll out refrigerated dough on a generously floured countertop to about ½-in (1.25 cm) thickness. Cut dough into rounds using a 1½-in (3.75 cm) round cutter. Place 1-in (2.5 cm) apart on parchmentlined baking sheets. Gather up scraps, knead gently together, roll and repeat until all dough has been used. Spray some plastic wrap with cooking spray and place oiled side down gently over dough. Place baking sheets aside in a warm place until dough is slightly puffed, about 1 hour.
To make LEMON SUGAR COATING: Stir together sugar and zest in a bowl. Set aside.
To cook, fill a deep fryer with canola oil and heat until it reaches 350 F (180 C) on a deep fryer thermometer. Line another baking sheet with paper towel. Add Fritas to hot oil 2 or 3 at a time. (Adding too many will reduce oil temperature too quickly.) Fry until puffed and golden brown on all sides, about 3 to 4 minutes, turning a couple of times with a slotted spoon, then remove to a paper towel-lined baking sheet. Repeat with remaining Fritas. When cool enough to handle, toss with Lemon Sugar Coating and set aside to fully cool before filling.
To fill Fritas, whisk lemon cream to loosen. Transfer to a pastry bag fitted with a very small tip. Poking a hole in each Frita, pipe 2 tsp (10 ml) into centre of each. Fritas are best when served same day they are made.
Drink Pairings