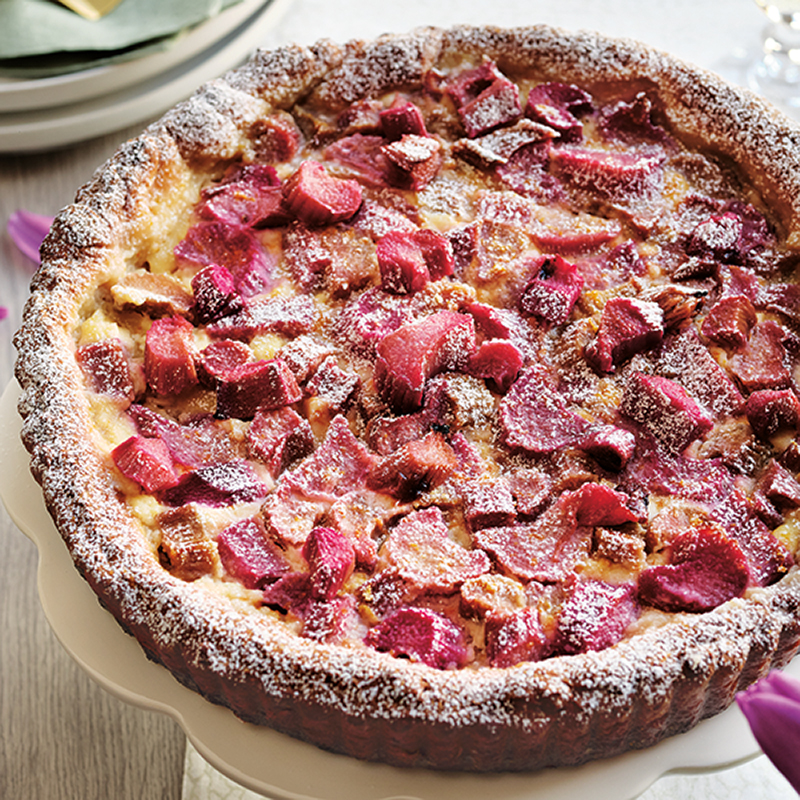 Sugared Rhubarb Brioche Tart
Ingredients
Serves one 10-in (25 cm) tart
2¼ cups (560 ml) all-purpose flour
2 tbsp (30 ml) granulated sugar
2 tsp (10 ml) instant dry yeast
2 tsp (10 ml) finely grated lemon zest
2 tsp (10 ml) finely grated orange zest
½ tsp (2.5 ml) fine sea salt
⅓ cup (75 ml) whole milk or buttermilk
¼ cup (60 ml) freshly squeezed orange juice
½ cup (125 ml) salted butter, softened, cut into small pieces
⅔ cup (150 ml) crème fraîche
1 cup (250 ml) granulated sugar
finely grated zest of 1 orange
2 tsp (10 ml) pure vanilla extract
3 to 4 stalks fresh rhubarb, (generous 2¼ cups (about 560 ml) total), sliced into ⅓-in (0.8 cm) pieces
2 tbsp (30 ml) very cold butter
Instructions
To make Dough, in bowl of a stand mixer fitted with dough hook attachment, combine flour, sugar, yeast, zests and salt. In a small bowl, combine milk, egg, egg yolk and orange juice. With mixer on medium-low, add egg mixture and mix to combine, then increase speed to medium and gradually add butter, mixing to form a soft dough. Continue mixing for 4 to 5 minutes, or until smooth and glossy. Butter inside of a large bowl and transfer Dough to bowl. Cover with plastic wrap and let stand in a warm place until doubled in size, about 1½ hours.
Preheat oven to 400 F (200 C). Butter bottom and sides of a 10-in (25 cm) fluted tart pan with a removable bottom. Turn Dough out onto a lightly floured surface and roll into a 12-in (30 cm) round. Transfer Dough to pan and press it into bottom and up grooved edges of pan. Using a fork, prick base and sides of Dough about 8 to 10 times all over.
To make Rhubarb Topping, spread crème fraîche over Dough base. In a small bowl, combine sugar and orange zest. Stir with a fork, mashing sugar and zest together to release orange oils. Add vanilla and mix well. Sprinkle half the sugar mixture over crème fraîche. In a medium bowl, combine rhubarb and remaining sugar, tossing to coat rhubarb. Scatter rhubarb evenly over tart base and coarsely grate cold butter over top with a box grater.
Transfer tart pan to a baking sheet and bake for 20 minutes. Decrease heat to 350 F (180 C) and bake until golden brown, another 10 to 12 minutes. Remove from oven and let cool for 30 minutes.
To serve, remove tart from pan and slide off metal base. Dust with icing sugar, cut into wedges and serve. Wrap any leftover tart well and store in refrigerator for up to 5 days. Reheat at 375 F (190 C) for 10 minutes before serving, if desired.
Drink Pairings