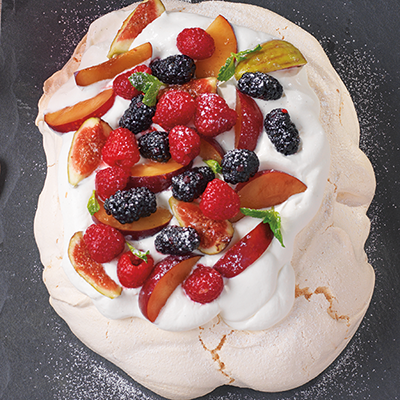 Ingredients
Serves 6
5 egg whites, at room temperature
1¼ cup + 4 tbsp (310 ml + 60 ml ) sugar, divided
1¼ tbsp (22 ml) cornstarch
2 tsp (10 ml) vanilla extract
1¾ cup (425 ml) whipping cream
1 vanilla pod, cut open and scraped
2 cups (500 ml) mixed summer fruit, such as raspberries, blackberries, nectarines and plums, pits removed and cut into wedges mint leaves, for garnish
Powdered sugar, for garnish
Instructions
Preheat oven to 275 F (140 C).
When separating egg whites, it's important there are absolutely no yolks. Any fat will prevent egg whites from fully whipping. In a clean mixing bowl, whip egg whites and salt with a mixer until foamy. While whipping, gradually add 1¼ cup (310 ml) sugar. Continue to whip until egg whites are stiff, soft and glossy. It should hold its shape when beater is pulled out of meringue. Fold in cornstarch and vanilla extract.
Pour meringue onto a parchment-lined baking sheet and spread into an oval about 8 x 6-in (20 x 15 cm), pushing outside edge higher than middle, like a crater. Bake for about 2 hours. It can't be overbaked unless it turns brown. After 2 hours, turn oven off and open oven door slightly. Allow pavlova to cool inside oven. Can leave it overnight.
Whip cream with 1 tbsp (15 ml) sugar and vanilla beans to soft peaks. Set aside in refrigerator. Mix fruit with remaining 3 tbsp (45 ml) sugar and set aside in refrigerator.
When ready to serve, place meringue on a serving platter. Place whipped cream on top and then fruit. Garnish with mint and powdered sugar.
Drink Pairings