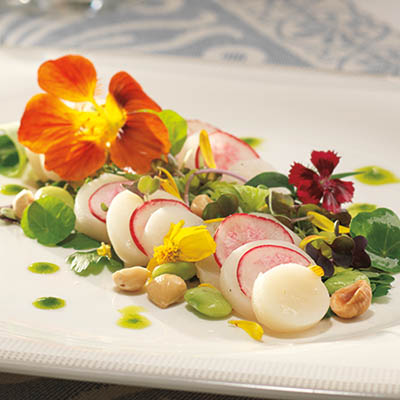 Ingredients
Serves 4
NASTURTIUM OIL (OPTIONAL):
2 cups (500 ml) nasturtium leaves
1 cup (250 ml) duck fat or olive oil
1 tbsp (15 ml) white wine vinegar
1 tsp (5 ml) finely minced shallots
¼ cup (60 ml) hazelnut oil
½ cup (125 ml) fresh or frozen, shelled fava beans
2 cups (500 ml) micro greens
½ cup (125 ml) hazelnuts, roasted and skinned
sea salt and freshly ground black pepper, to taste
edible flowers for garnish
Instructions
To make NASTURTIUM OIL: Place leaves and oil in a blender and process until smooth. Transfer to a non-reactive container and cover. Refrigerate until ready to use.
To make SALAD: Peel sunchokes and reserve. Pour duck fat or olive oil into a small saucepan and heat over medium-low heat. When warm, add sunchokes and cook, uncovered, for about 1 to 2 hours over low heat (fat/oil temperature 180 to 190 F), until tender. Remove sunchokes from pan and place on cooling rack set over a baking sheet to drain.
To make vinaigrette, combine white wine vinegar and shallots in a small bowl. Slowly drizzle in hazelnut oil while whisking, until emulsified.
When sunchokes have cooled, slice and place in a large bowl. Add fava beans, radishes, micro greens and hazelnuts and drizzle with vinaigrette. Toss to coat. Add salt and pepper to taste.
To serve, divide salad among 4 serving plates, garnish with edible flowers, drizzle a little more dressing around salad and serve. Garnish with dots of Nasturtium Oil.
Drink Pairings