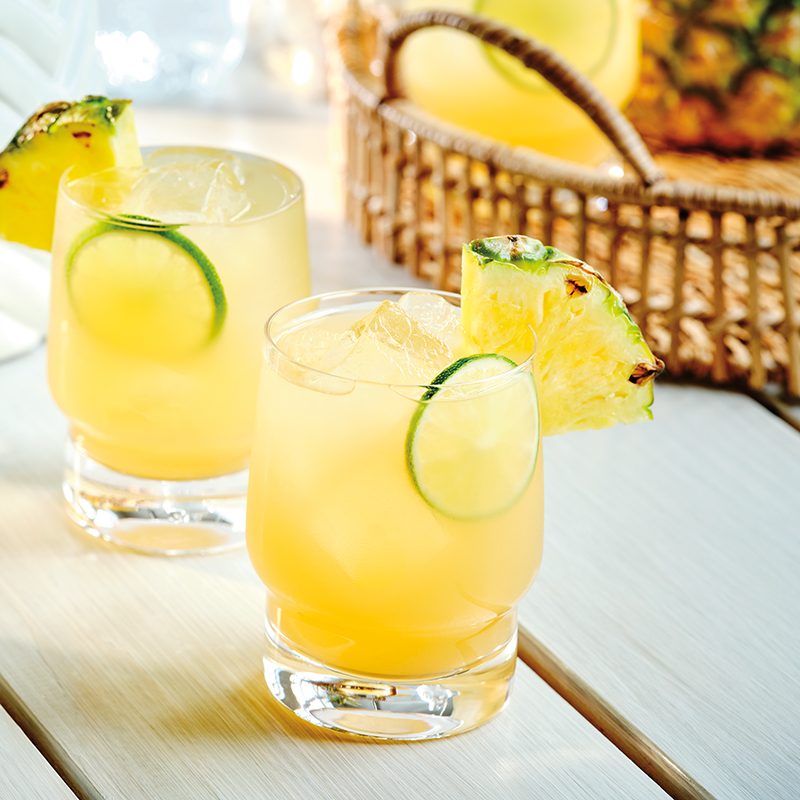 Ingredients
Serves 16 (2.7L)
25 oz (750 ml) G&W Distilling Tempo Renovo Dry Gin
32 oz (1 L) pineapple juice
12½ oz (375 ml) Allspice Syrup*
12½ oz (375 ml) fresh lime juice
fresh pineapple and/or pineapple fronds, for garnish
Instructions
In a large dispenser or bowl, combine gin (if using), pineapple juice, Allspice Syrup and lime juice, then stir to mix. If using a dispenser, add ice and stir to chill. If using a bowl, transfer to clean resealable bottles, seal and chill. To serve, in an old-fashioned double glass, combine 4.5 oz (135 ml)** of pre-mixed cocktail with 2 oz (60 ml) of soda water. Add cubed ice to glass, then garnish with pineapple and lime wheels, as desired.
* To make Allspice Syrup, in a small saucepan, combine 2 cups (500 ml) of water with 2 tbsp (30 ml) lightly crushed whole allspice. Boil until liquid is reduced to 1 cup (250 ml). Fine strain allspice water, then transfer back to saucepan and combine with 1 cup (250 ml) sugar and simmer to dissolve. Transfer to a clean container. Once cooled, seal and store in refrigerator for up to 1 week.
** If starting with a non-alcoholic mix, measure 31/2 oz (105 ml) into a Collins glass and add 11/2 oz (45 ml) of gin, top with 2 oz (60 ml) soda then fill glass with ice.
Featuring