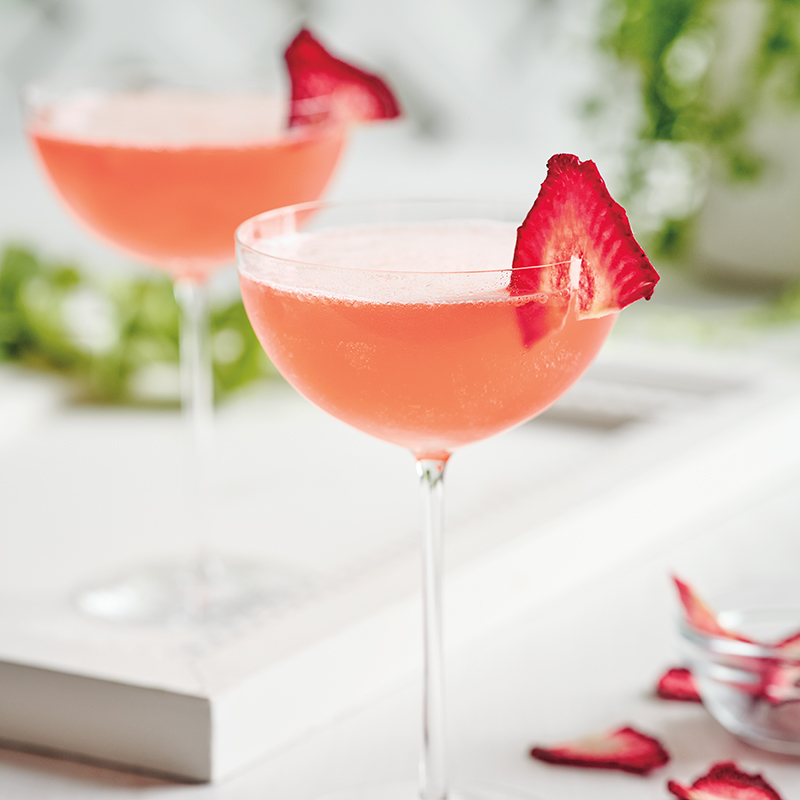 Sustainable Strawberry Daiquiri
Ingredients
Serves Serves 1
2 oz (60 ml) Bacardí White Rum
1 oz (30 ml) Strawberry Syrup*
dried strawberry, for garnish**
Instructions
In a cocktail shaker with cubed ice, combine all ingredients. Shake well and fine strain into a chilled coupe glass. Garnish with a dried strawberry.
*To make Strawberry Syrup, consider using local, seasonal or imperfect, overripe or end-of-season fruit. (Can also substitute same amount of blackberries or raspberries for a twist.) In a saucepan over medium-low heat, combine 1 lb (454 g) washed, hulled and sliced strawberries with 1 cup (250 ml) granulated sugar, 1 cup (250 ml) water and 1 tsp (5 ml) citric acid. Gently stir, then cover with a lid and cook for about 10 minutes, stirring occasionally. Once sugar has dissolved, remove from heat, cover and let cool to room temperature. Fine strain to remove solids, reserving fruit pulp (can be used or eaten as a jam). Do not press fruit while straining, or syrup will be cloudy. Transfer syrup to a bottle, seal and refrigerate until ready to use, or up to 2 weeks. Makes about 2 cups (500 ml).
**Thinly slice strawberries and place in a dehydrator at 135 F (57 C) for 6 hours, or set oven to lowest temperature and dry on parchment-lined baking sheets for 4 hours, rotating halfway through.
Featuring