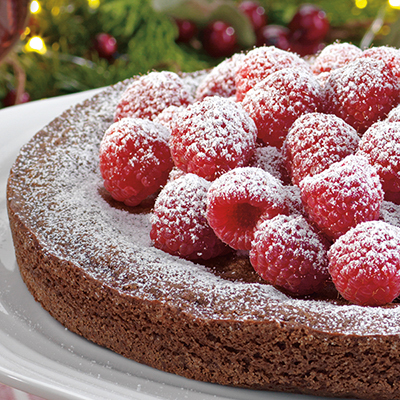 Ingredients
Serves 6 to 8
1¾ cups (425 ml) white sugar
1 cup (250 ml) all-purpose flour
½ cup + 2 tbsp (155 ml) cocoa powder
¾ cup + ⅛ cup (200 ml) unsalted butter, melted and set aside to cool slightly
12 oz (350 g) raspberries
2 tbsp (30 ml) icing sugar
2 cups (500 ml) whipping cream, whipped with 1 tbsp (15 ml) sugar and 1 tsp (5 ml) vanilla
Instructions
Preheat oven to 350 F (180 C). Grease an 8-in (20 cm) round cake pan and line bottom with parchment paper.
In a medium-sized bowl with an electric mixer, mix granulated sugar and eggs until pale and fluffy.
In a separate bowl, sift flour, cocoa powder and sea salt together. Add flour mixture to egg mixture and fold until combined. Add butter and mix until combined.
Pour batter into cake pan and bake for about 20 minutes. Cake should still be sticky in middle. Remove from oven and cool completely before serving. Cake can then be refrigerated for 3 days, or frozen for up to 1 month. If frozen, defrost cake at room temperature before serving.
Place raspberries on cake and dust with icing sugar. Serve with whipping cream.
Drink Pairings