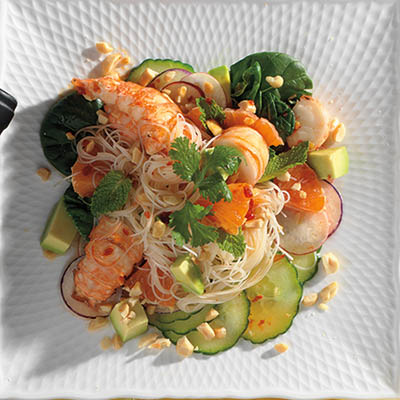 SWEET AND SPICY LOBSTER NOODLE SALAD
Ingredients
Serves 4
¼ cup (60 ml) grape seed oil
4 large garlic cloves, thinly sliced
2 large shallots, thinly sliced
3 tbsp (45 ml) Asian fish sauce
3 tbsp (45 ml) lime juice
2 tbsp (30 ml) clover honey, plus extra
1 tsp (5 ml) sambal oelek
¼ tsp (1 ml) toasted sesame oil
8 small cooked lobster tails
4 oz (125 g) vermicelli rice noodles
1 unpeeled English cucumber, thinly sliced into rounds
3 radishes, thinly sliced into rounds
2 naval oranges, peeled and sliced into segments
3 cups (750 ml) mixture of Asian baby greens
1 large Hass avocado, peeled, pitted and cut into chunks
2 tbsp (30 ml) chopped, roasted, salted peanuts
2 tbsp (30 ml) fresh mint leaves
2 tbsp (30 ml) fresh cilantro leaves
Instructions
To make DRESSING: In a small frying pan heat grape seed oil over medium-low heat, add garlic, shallots and a pinch of salt. Cook, stirring occasionally, until garlic and shallots are golden, about 7 minutes. Transfer to a medium-sized bowl. Stir in chili, fish sauce, lime juice, honey, sambal oelek and sesame oil. Season dressing to taste with additional salt and honey. Set aside.
To make LOBSTER SALAD: Using scissors, cut along underside of lobster tail shells and remove meat. Remove and discard dark vein from each piece of tail meat. Reserve shells for another use. Slice 4 lobster tails into 1-in (2.5 cm) pieces and leave remaining 4 whole.
In a medium-sized heat-proof bowl, cover rice noodles with boiling water and let stand until pliable and tender, about 10 minutes. Drain noodles thoroughly and place in a large bowl. Add dressing and toss to coat, allowing noodles to marinate in dressing for 10 minutes. Add cut lobster, cucumber slices, radishes, orange segments and baby greens. Gently toss together until well combined. Transfer to a serving plate and garnish with remaining whole lobster tails, avocado, peanuts, mint and cilantro. Serve immediately.
Drink Pairings