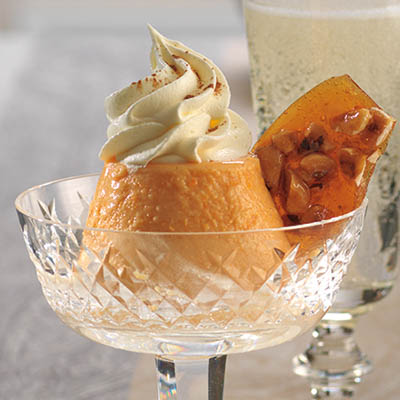 SWEET POTATO AND MAPLE SYRUP PANNA COTTA
Ingredients
Serves 8 (½ cup (125 ml) servings each)
1 large or 2 small unpeeled sweet potatoes
1 cup (250 ml) homogenized milk
1 cup (250 ml) buttermilk
1 cup (250 ml) whipping cream
¼ cup (60 ml) maple syrup
1 tsp (5 ml) vanilla extract
whipped cream, for garnish
1 cup (250 ml) granulated sugar
1 tsp (5 ml) corn syrup or agave syrup
½ cup (125 ml) toasted hazelnuts, coarsely chopped
Instructions
Preheat oven to 425 F (210 C).
Pierce sweet potato with a fork. Bake in oven until tender and fully cooked, about 40 to 55 minutes, depending on size. Cool to touch. Cut in half lengthwise and scoop out flesh into a large bowl. Mash well with potato masher. Measure out 1 cup (250 ml) mashed sweet potato.
Place homogenized milk in a medium-sized saucepan. Sprinkle gelatin over milk and let sit for 5 minutes or until gelatin softens.
In a blender, combine buttermilk, whipping cream, mashed sweet potato, maple syrup and cinnamon. Blend until smooth.
Heat softened gelatin and milk mixture over low heat, stirring until gelatin is dissolved. Stir in sweet potato mixture and cook over medium heat, stirring well until mixture starts to steam. Remove from heat and stir in vanilla.
Ladle into 8 x ½ cup (125 ml) ramekins. Transfer to refrigerator and chill until firm. Garnish with a dollop of whipped cream and Hazelnut Brittle.
To make SALTED HAZELNUT BRITTLE: Line a baking sheet with parchment paper. Mix together sugar, water and corn syrup in a medium, heavy-bottomed saucepan. Cook over medium-high heat, without stirring, until it starts to caramelize to a light golden brown, about 13 minutes. Gently swirl saucepan until mixture is a deep amber colour, about 1 more minute.
Remove immediately from heat and quickly stir in nuts and salt. Pour immediately onto the prepared baking sheet, spreading in an even layer. Let cool. Once cool and hardened, break into shards.
Drink Pairings