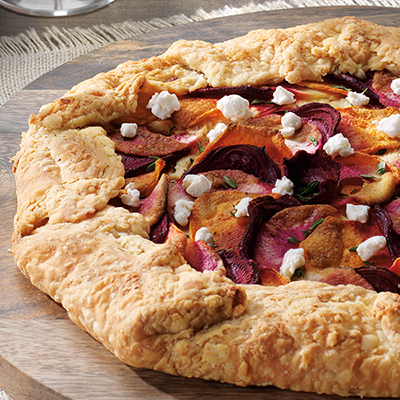 SWEET POTATO, BEET AND APPLE GALETTE
Ingredients
Serves 8
2 tsp (10 ml) apple cider vinegar, divided
2 cups (500 ml) all-purpose flour, plus extra for dusting
1 cup (250 ml) cold unsalted butter, cut into cubes
tbsp (15 ml) Dijon mustard
tbsp (15 ml) extra-virgin olive oil, plus extra
½ tsp (2.5 ml) fresh thyme leaves
5 oz (150 g) goat's cheese, at room temperature, divided
1 large red beet, peeled and sliced into ⅛-in (0.25 cm) thick rounds
1 medium sweet potato, peeled and sliced into ⅛-in (0.25 cm) thick rounds
1 medium baking apple (Honeycrisp, Gala or Fuji) sliced into ⅛-in (0.25 cm) thick rounds
Instructions
Preheat oven to 375 F (190 C).
In a measuring pitcher, stir together ice water and 1 tsp (5 ml) apple cider vinegar, set aside.
In a large bowl, whisk together flour and salt. Cut butter into flour mixture using a fork or dough blender. When done, butter should be roughly pea sized and well coated in flour.
Add water mixture 1 tbsp (15 ml) at a time and stir into flour mixture with a fork until a shaggy dough forms. Gently knead dough in bowl with hands 3 or 4 times. Shape dough into a disk, wrap in parchment paper and refrigerate while preparing filling.
In a small bowl, whisk together mustard, olive oil, remaining 1 tsp (5 ml) apple cider vinegar, pepper and thyme until well combined. Set dressing aside.
On a floured work surface, roll out dough to about a ¼-in (0.5 cm) thick round. Move dough to a parchment-lined baking sheet. Spread 3½ oz (105 g) of goat's cheese on dough, leaving a 1½‑in (3.75 cm) boarder around. Alternate layering slices of beet, sweet potato and apple over goat's cheese working in a circular pattern and slightly overlapping.
Drizzle with reserved dressing before gently folding bare edges of dough inwards on top of filling. Brush crust with a little additional olive oil.
Bake until crust is golden brown, and vegetables are softened, about 40 to 50 minutes. Let cool for about 10 minutes before garnishing with a crumble of remaining 1½ oz (45 g) goat's cheese. Serve slices warm or at room temperature.
Drink Pairings