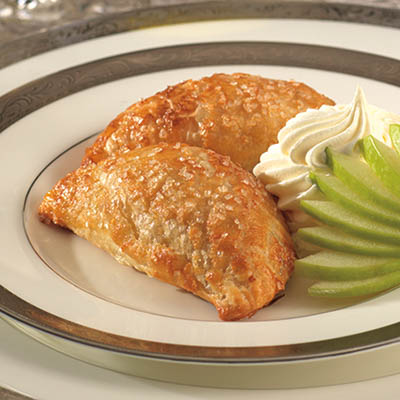 Ingredients
Serves about 18 turnovers
½ lb (250 g) unpeeled sweet potatoes
½ lb (250 ml) Granny Smith apples, peeled, cored and cut into fine ¼-in (0.5 cm) dice
2 tbsp (30 ml) granulated sugar, plus extra for dusting
⅓ cup (75 ml) whole blanched almonds, ground in food processor
½ tsp (2 ml) ground cinnamon
½ tsp (2 ml) ground ginger
¼ cup (60 ml) finely chopped crystallized ginger
1 pkg (or 2 sheets) frozen puff pastry, thawed
all-purpose flour, for rolling
Instructions
Preheat oven to 400 F (200 C). Line 2 baking sheets with parchment paper.
Pierce potatoes with a fork. Bake in oven until tender and fully cooked, about 40 to 55 minutes, depending on size. Cool to touch. Cut in half lengthwise and scoop out flesh into a large bowl. Mash with potato masher or fork. Mix in apples, sugar, almonds, cinnamon, ground ginger and chopped ginger. Set aside.
Lightly dust a large cutting board with flour. Roll out 1 of the pastry sheets to ⅛-in (3 cm) thickness. Cut out circles using a 3½-in (8.75 cm) cookie cutter, making as many circles from the dough as possible.
Place a heaping tbsp (15 ml) of the filling on each circle. Brush bottom edge of pastry lightly with egg wash, then fold circles in half to form a half moon. Press the edges together with a fork to seal and arrange on a parchment paper-lined baking sheet. Repeat with remaining dough and filling, collecting scraps of dough and rolling out. Brush tops of turnover with egg wash and sprinkle with sugar.
Bake on prepared baking sheets until golden brown, about 12 to 15 minutes. Remove and allow to cool for 5 minutes before serving. Best served warm with vanilla ice cream or whipped cream.
Drink Pairings