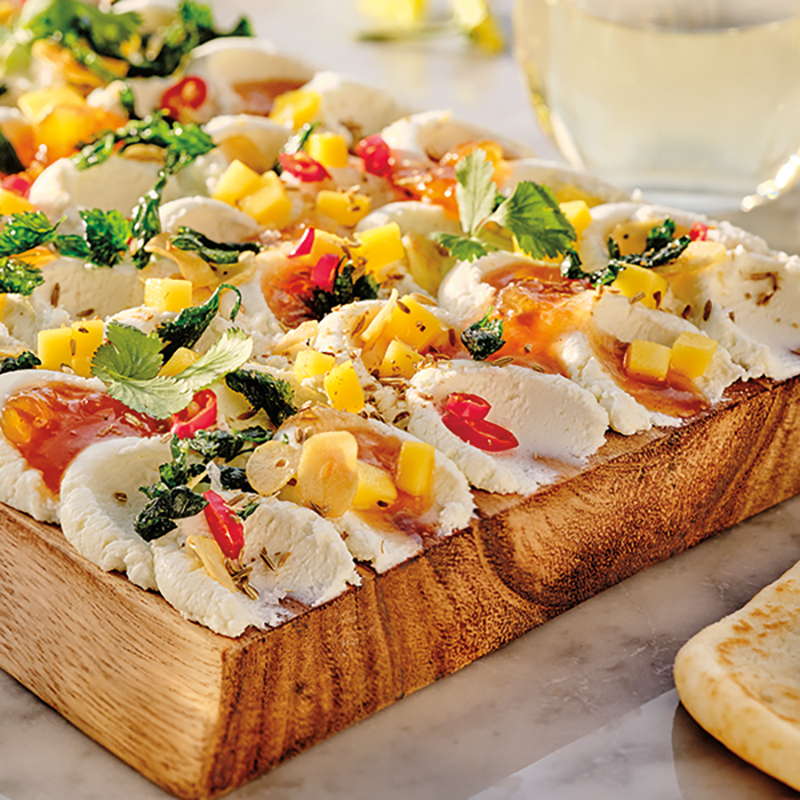 Sweet & Spicy Goat's Cheese Board
A bevy of boards, both sweet and savoury, perfect for sharing.
Ingredients
Serves 8
2 tsp (10 ml) fennel seeds
4 garlic cloves, thinly sliced
½ cup (125 ml) cilantro leaves and tender stems
10½ oz (300 g) fresh goat's cheese, at room temperature
¼ cup (60 ml) sweet mango chutney
1 small, fresh Ataulfo mango, peeled, pitted and diced
1 tsp (5 ml) flaky sea salt
1 Thai red (bird's eye) chili, sliced into thin rounds or ½ tsp (2 ml) red chili flakes
warm naan bread, for serving
Instructions
Add fennel seeds to a dry frying pan and place over medium heat. Toast, stirring constantly, until fragrant, about 2 minutes. Transfer to a mortar and pestle, roughly grind warm fennel seeds and set aside. If you don't have a mortar and pestle, place seeds on a cutting board and crush them using a heavy-bottomed saucepan. Transfer to a small bowl and set aside. 
Place frying pan back over medium heat and add ghee until melted and hot. Add garlic and fry, stirring constantly, for 30 seconds. Add cilantro, taking care as it will sputter and spit when it hits the hot oil, and fry with garlic until darker in colour and garlic has turned light golden brown, about 30 seconds to 1 minute. Using a slotted spoon, transfer garlic and cilantro to a small bowl and set aside. Save remaining infused ghee for another use or discard.
Thickly spread goat's cheese on cutting board and use a knife or back of a spoon to add swirls, peaks and valleys in cheese.
When ready to serve, dot sweet mango chutney over goat's cheese, then sprinkle with diced mango, toasted fennel seeds, fried garlic and cilantro, flaky sea salt and chili flakes. Serve alongside warm naan bread for dipping.
Drink Pairings