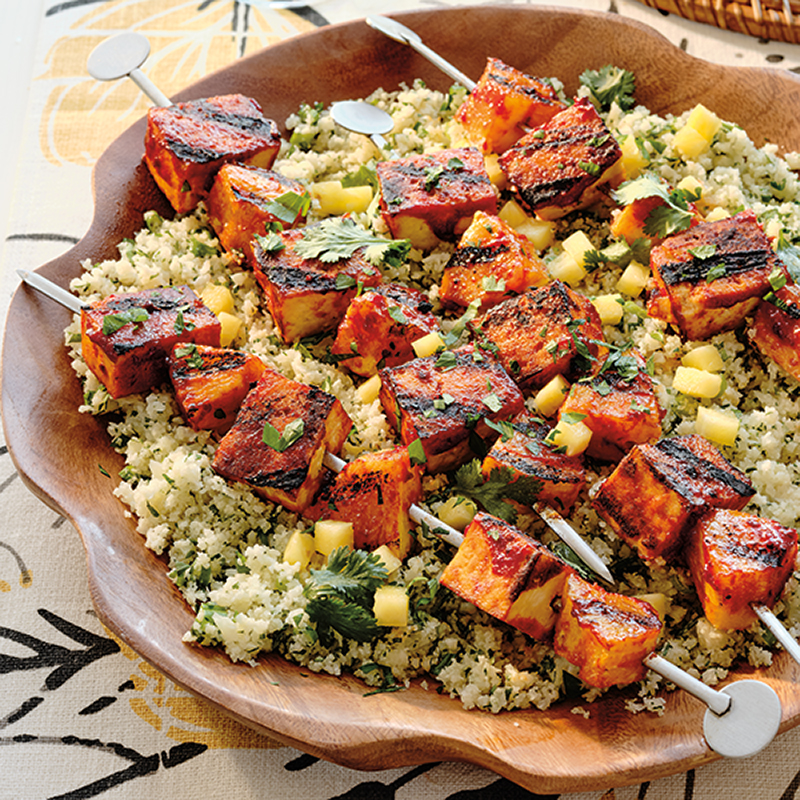 Sweet & Spicy Tofu & Pineapple Skewers with Cauliflower Rice
Ingredients
Serves 4
12 oz (350 g) extra firm tofu
¼ cup (60 ml) tomato paste
2 tbsp (30 ml) liquid honey
1 tbsp (15 ml) low-sodium soy sauce
2 tbsp (30 ml) grapeseed oil, divided, plus extra for grilling
1 tbsp (15 ml) chopped canned chipotles in adobo sauce
½ tsp (2.5 ml) garlic powder
¼ tsp (1 ml) onion powder
½ tsp (2.5 ml) finely minced fresh ginger
1½ lbs (750 g) cauliflower florets
½ fresh pineapple, trimmed and cut into 1-in (2.5 cm) chunks
kosher salt and freshly ground black pepper, to taste
⅓ cup (75 ml) fresh cilantro leaves, finely chopped, plus extra for garnish
⅓ cup (75 ml) fresh flat leaf parsley leaves, finely chopped, plus extra for garnish
⅓ cup (75 ml) fresh basil leaves, finely chopped
2 green onions, trimmed and thinly sliced
1 tbsp (15 ml) fresh lime juice
Instructions
Place tofu on a paper towel-lined plate. Place another couple sheets of paper towel on top of tofu and place a plate on top of paper towel. Place a can or 2 of beans or something else heavy on top of plate. Let sit for about 15 minutes.
Meanwhile, make sauce. In a medium bowl, whisk together tomato paste, honey, soy sauce, 1 tbsp (15 ml) grapeseed oil, chipotles, garlic powder, onion powder and ginger until well combined. Set aside.
To make cauliflower rice, place cauliflower florets in bowl of a food processor fitted with steel S blade attachment. Pulse until mixture resembles rice, working in batches if needed. Set aside.
Preheat grill to high. Cut tofu into 1-in (2.5 cm) cubes and thread tofu and pineapple chunks onto 4 to 6 metal skewers. Place on a plate and brush each skewer all over with grapeseed oil. Set aside.
Add remaining 1 tbsp (15 ml) grapeseed oil to a large frying pan and warm over medium heat. Add riced cauliflower all at once, season with salt and pepper and cover with a lid. Let cook for 1 minute, remove lid and stir in chopped herbs, green onion and lime juice. Continue to cook, stirring often, until cauliflower is al dente, about 4 to 7 minutes. Remove from heat, season to taste with salt and pepper and set aside.
Place skewers on grill and close lid, letting them cook until nicely grill-marked, about 3 minutes. Flip skewers and close lid again, again letting them cook until grill-marked, about 2 to 3 minutes more. Brush half the sauce over skewers and flip. Let cook until sauce starts to caramelize, about 2 minutes. Brush skewers with remaining sauce and flip again, cooking until skewers are evenly caramelized, about 2 minutes more.
To serve, spoon cauliflower rice onto a platter and place skewers on top. Garnish with additional cilantro and parsley.
Drink Pairings