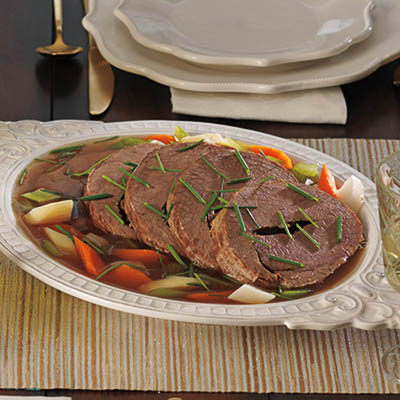 TAFELSPITZ WITH HORSERADISH CREAM SAUCE
Ingredients
Serves 6
2 medium onions, unpeeled, halved crosswise + 1 peeled and thinly sliced
4 medium carrots, peeled, trimmed and halved
5 small turnips, peeled, trimmed and halved
1 large parsnip, peeled, halved
2 leeks, trimmed, washed and cut into 2-in (5 cm) pieces
3 whole parsley sprigs, divided
5 lb (2.25 kg) bottom round rump roast
4 to 5 4-in (10 cm) beef marrow bones
1 tsp (5 ml) whole black peppercorns
3 to 4 tbsp (45 to 60 ml) finely chopped chives, for garnish
2 Granny Smith apples, peeled, cored and sliced into ½-in (1.25 cm) thick slices
2 to 3 tbsp (30 to 45 ml) finely grated, freshly peeled horseradish root or hot prepared horseradish (not creamed)
Instructions
Heat a large stock pot over medium-high heat. Add unpeeled onions, cut-side down, and cook, without turning, until blackened, 8 to 10 minutes. Remove and set aside.
Add 20 cups (5 L) water, cover and bring to a boil. Carefully place a third of the vegetables plus 2 parsley sprigs into pot. Add meat, half of the marrow bones, peppercorns and blackened onions. Return to a boil. Partially cover pot and simmer, skimming foam and fat that surfaces, cooking 2½ to 3½ hours, or until meat is tender. Transfer meat and bones to a dish and cover with plastic wrap to keep warm.
Strain broth through a double layer of cheesecloth set in a sieve, placed over a bowl. Discard cooked vegetables. Remove any excess fat that surfaces to the top. Return strained broth to large saucepan and season with salt and pepper to taste. Add remaining vegetables and simmer over medium heat until vegetables are just tender. Remove from broth and cut into ½-in (1.25 cm) slices. Transfer to a deep heatproof serving dish and cover to keep warm.
Remove marrow from reserved bones, discarding bones, and whisk into broth. Strain broth through a double-layer of cheesecloth set in a sieve into a pot. Keep warm over low heat.
To serve, carve meat across the grain into ½-in (1.25 cm) thick slices and arrange along with the warmed reserved vegetables. Cover with broth. Season to taste and garnish with chopped chives. Serve with horseradish-apple sauce.
To make HORSERADISH-APPLE SAUCE: Steam apples in a covered steamer basket set over a pot of gently boiling water until soft, about 5 minutes. Or microwave, covered, until soft.
Place into mixing bowl and mash with horseradish, olive oil, sugar and salt to taste. Set aside to cool.
Drink Pairings