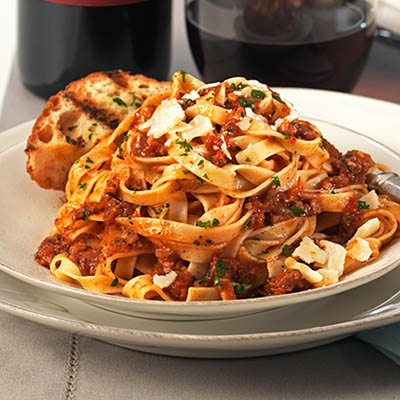 TAGLIATELLE BOLOGNESE SERVED WITH GRILLED GARLIC BREAD
Ingredients
Serves 6 to 8
¾ cup (175 ml) olive oil, divided
2 oz (60 g) pancetta, coarsely chopped
½ lb (250 g) lean ground beef
¼ lb (125 g) ground pork or Italian sausage (casings removed)
3 garlic cloves, finely minced
1 large yellow onion, peeled and finely chopped
2 small carrots, peeled and finely chopped
2 celery stalks, finely chopped
1 x 28 oz (796 ml) can crushed plum tomatoes
2 cups (500 ml) dry red wine
1 tsp (5 ml) crushed red pepper
¼ cup (60 ml) flat-leaf parsley, coarsely chopped
2 tsp (10 ml) dried oregano
3 tbsp (45 ml) fresh rosemary, coarsely chopped
1 piece Parmesan rind, about 3-in (7.5 cm) square (optional)
2 tsp (10 ml) brown sugar
sea salt and freshly ground black pepper, to taste
2 lbs (1 kg) fresh tagliatelle
freshly grated Parmesan, for garnish
1 cup (250 ml) unsalted butter
½ cup (125 ml) flat-leaf parsley, finely chopped
freshly ground black pepper
2 large crusty French loaves, halved horizontally
Instructions
In a large frying pan, heat ¼ cup (60 ml) olive oil over medium heat. Add pancetta and sauté for 1 minute. Gradually add ground meat and cook just until browned, breaking up any large pieces with a fork, about 5 minutes. Remove meat with a slotted spoon to a fine-meshed sieve to drain any excess fat.
In a very large Dutch oven, heat remaining olive oil over medium-high. Add garlic and sauté until golden, about 3 minutes. Add onion, carrots and celery and cook until onion is translucent. Stir in drained meat, tomatoes, wine, crushed red pepper, nutmeg, parsley and half the oregano and rosemary. Stir and bring to a simmer. Add Parmesan rind and brown sugar and season to taste. Simmer slowly over low heat, uncovered, about 1½ hours, stirring occasionally to prevent bottom from sticking and burning.
In a large saucepan, bring 24 cups (6 L) water with 1 tbsp (15 ml) salt to a boil over high heat. Add pasta and stir well. Cover until it returns to a boil. Uncover and boil just until pasta is al dente.
Reserve ¾ cup (175 ml) cooking water and thoroughly drain pasta. Add pasta to sauce and mix well, adding a bit of the reserved water if needed to evenly coat pasta. Cover and cook 1 minute. Season with remaining spices, to taste and serve immediately with freshly grated Parmesan.
To make GRILLED GARLIC BREAD: Preheat grill. Heat butter in a small saucepan with garlic and salt over medium heat, stirring until melted. Cool slightly and stir in chopped parsley and black pepper to taste. Brush sides of bread with half the garlic butter. Grill bread cut sides down, about 2 minutes. Flip and brush with remaining garlic butter. Grill until golden, about 2 to 3 more minutes. Slice and serve.
Drink Pairings