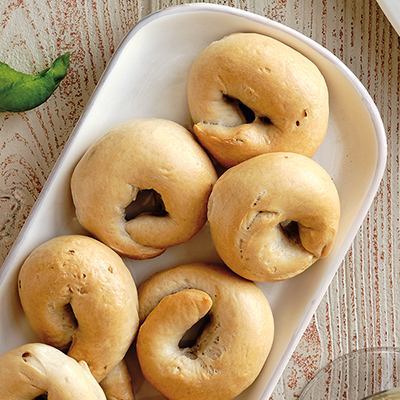 Ingredients
Serves 24
1 tsp (5 ml) active dry yeast
½ tsp (2.5 ml) white sugar
¾ cup (175 ml) lukewarm water
2½ cups (625 ml) all-purpose flour
½ tsp (2.5 ml) kosher salt, plus extra for boiling
½ tsp (2.5 ml) fennel seeds
¼ cup (60 ml) extra-virgin olive oil
¼ cup (60 ml) dry white wine
Instructions
In a small bowl, mix together yeast, sugar and water and allow to sit for 5 minutes to activate yeast.
In a large bowl, mix yeast mixture with remaining ingredients until it comes together into a dough. Turn dough out onto a clean work surface and knead for 5 to 8 minutes, or until smooth. Then place dough in a clean oiled bowl and cover with plastic wrap. Allow to rest at room temperature for 1 hour.
Preheat oven to 375 F (190 C). Bring a medium pot of salted water to a boil.
Meanwhile, divide dough into 24 pieces. Roll each piece into a 3-in (8 cm) long rope (do not dust with flour), then fasten ends together to create a loop.
Line a baking sheet with parchment paper. Working in batches of 2 to 3, drop each loop in the boiling water and cook until they float to top, about 30 seconds to 1 minute. Remove with a slotted spoon and transfer to lined baking sheet.
Transfer baking sheet to oven and bake for 10 minutes, then reduce heat to 350 F (180 C) and bake for another 10 to 15 minutes, or until golden brown. Allow to cool before serving. Taralli will keep for up to 1 week in an airtight container.
Drink Pairings