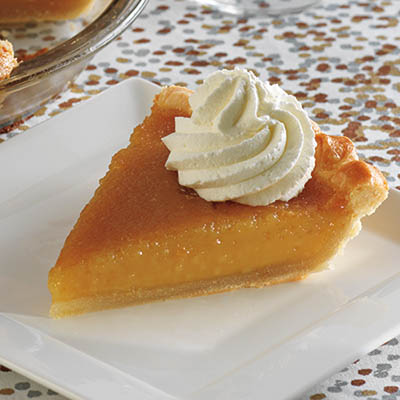 TARTE AU SUCRE (CANADIAN MAPLE SUGAR PIE)
Ingredients
Serves 4 to 6
1½ cups (375 g) all-purpose flour
¾ cup (175 ml) butter, chilled and small diced
1½ cups (375 ml) pure maple syrup
½ cup (125 ml) 35 percent heavy cream
2 tsp (10 ml) all-purpose flour
2 large eggs, well beaten
Instructions
To make TART SHELL: In a food processor, pulse flour and chilled butter. until mixture resembles coarse crumbs. Transfer to a mixing bowl. Stir in water, 1 tbsp (15 ml) at a time, until mixture forms a ball. Flatten to a disk and wrap in plastic wrap. Refrigerate at least 2 hours.
Roll dough out to fit a 9-in (22.5 cm) pie plate with a slight overhang. Trim and fold in overhang and crimp edge of pastry. Place in refrigerator until ready to fill.
To make MAPLE SUGAR FILLING: Preheat oven to 325F (165 C). Heat a heavy saucepan over medium heat. Bring maple syrup to a gentle boil, reducing the heat if necessary, for 5 minutes. Remove from heat and whisk in butter and cream until combined. Transfer ½ cup (125 ml) of mixture to a small bowl and whisk in flour and salt. Add flour mixture back into the saucepan and continue whisking, allowing to cool slightly. While whisking, slowly pour into the beaten eggs until well mixed.
Pour filling into chilled pie shell and bake in middle of oven, until centre is golden brown, bubbly and firm when lightly touched, about 45 minutes. Pie can be served slightly warm and garnished with sweetened whipped cream.
Drink Pairings