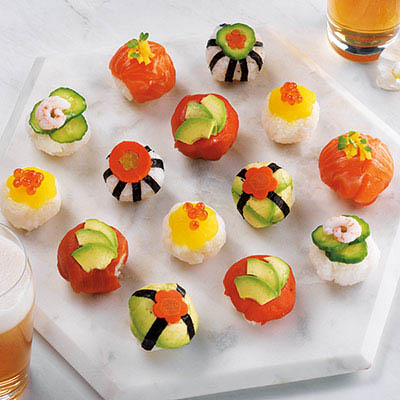 Ingredients
Serves 6 to 8
2 cups (500 ml) sushi rice
⅓ cup (75 ml) rice vinegar
strips of nori (seaweed) with thinly sliced
sashimi-grade salmon with thinly sliced pickled daikon
thinly sliced cucumber with shrimp
thinly sliced pickled daikon with fish roe
sashimi-grade salmon with fanned avocado slices
avocado slices with strips of nori and thinly sliced carrot
Instructions
Rinse rice well, soak for 30 minutes then drain. In a medium saucepan, bring rice and 3 cups (750 ml) water to a boil. Reduce heat to low, cover and simmer for another 20 minutes or until all water is absorbed. Transfer cooked rice to a large glass bowl.
In a medium saucepan, heat rice vinegar, sugar and salt together and stir until sugar has dissolved. Evenly pour hot vinegar mixture over cooked rice and using edge of spatula "cut" dressing into rice. Do not stir to mix. Use a piece of cardboard to fan mixture as dressing is cut into rice to cool it. Flip portions of rice over and continue cutting and cooling rice. Cover with a damp tea towel until ready to use.
Shape 2 tbsp (30 ml) of sushi rice into a ball and place on tray or large plate. Repeat with remaining rice. Place a piece of plastic wrap on a clean counter, roughly 10-in x 12-in (25 cm x 30 cm). Place toppings of choice (get creative!) in centre of plastic wrap then place a rice ball over it. Gather ends of plastic wrap together and twist to form a tight ball. Repeat with remaining rice balls and toppings. Set aside.
When ready to serve, remove plastic wrap and serve right side up with pickled ginger and soy sauce, if desired.
Drink Pairings