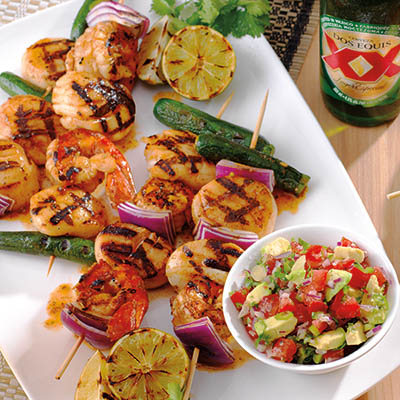 TEQUILA, CHILI AND LIME-MARINATED PRAWN AND SCALLOP SKEWERS SERVED WITH AVOCADO PICO DE GALLO
Ingredients
Serves 6 (makes 12 skewers)
24 large fresh or frozen sea scallops, about 2 lbs (1 kg)
24 large fresh or frozen prawns, about 1 lb (0.5 kg)
3 to 4 garlic cloves, finely minced
1 tbsp (15 ml) chili powder
½ jalapeño pepper, seeded, finely minced
1 tsp (5 ml) dried oregano
1 tbsp (15 ml) agave syrup or honey
2 tsp (10 ml) kosher salt
½ tsp (2 ml) smoked paprika
1 red onion, cut into 2-in (5 cm) chunks
12 baby summer zucchini squash
2 limes, cut into 12 large wedges
12 x 8-in (20 cm) skewers, if using wooden, soak overnight in water
3 medium ripe tomatoes, cored and diced
1 jalapeño pepper, or to taste, seeded and finely minced
½ cup (125 ml) minced red onion
¼ cup (60 ml) finely chopped cilantro
2 green onions, finely chopped
2 tbsp (30 ml) fresh lime juice
sea salt and pepper, to taste
1 to 2 ripe avocados, pitted, peeled and diced
Instructions
Thaw scallops and prawns, if frozen. Peel and devein prawns. Rinse both in cold water, drain and pat dry with paper towel. Place into medium bowl. Set aside.
In a small mixing bowl, stir together tequila, lime juice, olive oil, garlic, chili powder, jalapeño, oregano, agave syrup or honey, salt and paprika until well blended. Set aside ¼ cup (60 ml) for basting. Pour remaining marinade over prawns and scallops and mix well. Transfer to a resealable plastic bag, seal and place into a shallow baking dish. Marinate at room temperature for 15 minutes, turning bag occasionally. Marinade could also be used for pork or chicken.
Drain prawns and scallops, discard marinade. On skewers, alternately thread 2 scallops and 2 shrimp along with red onion chunks, a baby zucchini and a lime wedge. Place on a preheated grill over medium-high heat. Grill for 10 minutes, or until scallops and shrimp are opaque, turn once halfway through grilling and baste with reserved marinade. Serve with Avocado Pico de Gallo.
To make AVOCADO PICO DE GALLO: Combine tomatoes, jalapeño, red onion, cilantro, green onion, lime juice and olive oil. Taste and season. Gently fold in avocado and serve.
Drink Pairings