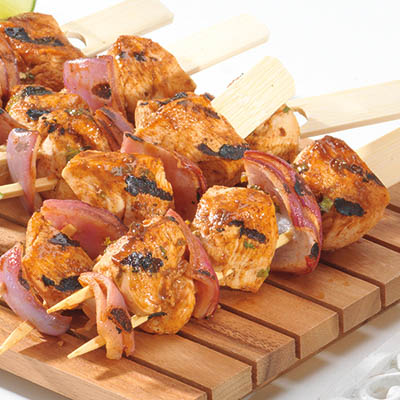 Ingredients
Serves filling for about 12 tacos
½ cup + 2 tbsp (155 ml) lime juice
¾ cup (175 ml) orange juice
¼ cup (60 ml) gold tequila
1 tbsp (15 ml) clover honey
1 jalapeño, seeded and finely chopped
¼ cup (60 ml) roughly chopped cilantro leaves, plus extra for garnish
2 tbsp (30 ml) kosher salt
1 tbsp (15 ml) smoked chili powder
2 tsp (10 ml) ground black pepper
1.5 lbs (750 g) boneless, skinless chicken breast, cut into 1-in (2.5 cm) chunks
1 red onion, cut into 1-in (2.5 cm) chunks
Instructions
In a stainless steel or glass bowl, whisk together all ingredients except chicken and red onion until well combined and salt has dissolved. Add chicken and stir to coat in marinade. Cover with plastic wrap and refrigerate for 4 hours.
Meanwhile, soak about 12 wooden skewers in water.
When ready to cook chicken, preheat grill over medium-high heat. Remove chicken from marinade and save marinade. Place marinade in a small saucepan and bring to a boil over medium high heat. Boil for 1 minute before removing from heat.
Thread chicken pieces onto soaked skewers alternating chicken with a few pieces of red onion. Grill chicken skewers, brushing often with reserved marinade, and turning often until chicken is cooked through, about 8 to 10 minutes total. Transfer to a platter, garnish with additional cilantro and serve.
Drink Pairings