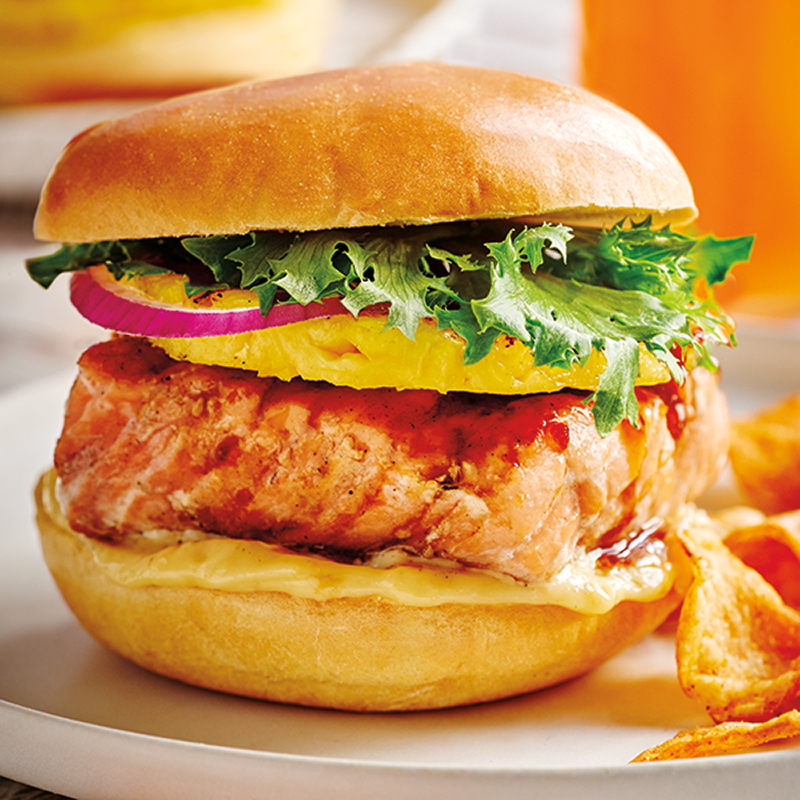 Ingredients
Serves 4
4 x 6 oz (180 g) salmon fillets (check for any remaining bones)
1 tbsp (15 ml) kosher salt
1 tbsp (15 ml) brown sugar
1 cup (250 ml) teriyaki sauce
½ tsp (2.5 ml) toasted sesame oil
½ cup (125 ml) mayonnaise
2 tsp (10 ml) grated ginger
½ pineapple, peeled, cored and cut into 1½-in (3.75 cm) slices
3 tbsp (45 ml) vegetable oil, divided
1 tsp (5 ml) toasted sesame seeds
¼ small red onion, thinly sliced
4 Hawaiian sweet rolls or soft burger buns
Instructions
Sprinkle salmon fillets with salt and sugar. Place on a plate or tray and refrigerate for 20 minutes to quick cure. After 20 minutes, rinse off salt and sugar completely, then dry salmon with paper towels.
While salmon is curing, heat teriyaki sauce in a small saucepan over medium heat until reduced by half.
To make miso mayonnaise, in a small bowl, mix sesame oil, miso, mayonnaise and ginger and set aside.
Preheat barbecue to medium-high and grease grills with 2 tbsp (30 ml) oil. Rub remaining 1 tbsp (15 ml) oil on pineapple and salmon.
Grill salmon for 3 to 4 minutes each side, or until desired doneness, brushing with teriyaki sauce. Grill pineapple for 3 minutes each side. Remove salmon and pineapple from barbecue once done. While salmon and pineapple are cooking, heat buns on top rack of barbecue.
To assemble burgers, spread miso mayonnaise on both sides of each bun. Place a piece of salmon on bottoms of each bun. Drizzle salmon with remaining teriyaki sauce and sprinkle with sesame seeds. Top each burger with a pineapple slice, red onion, lettuce and bun top.
Drink Pairings