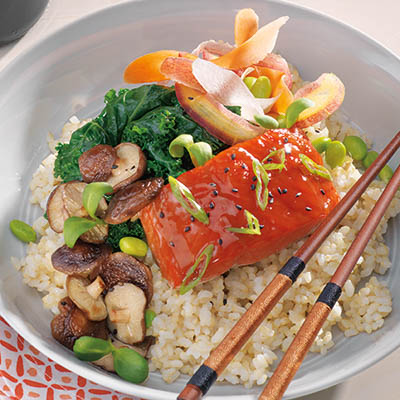 TERIYAKI SALMON RICE BOWL
Ingredients
Serves 4
1½ lb (750 g) sockeye salmon fillet, cut into 4 portions
salt and pepper, to taste
1 cup (250 ml) teriyaki sauce, divided
1 cup (250 ml) chopped kale, blanched and kept warm
1 cup (250 ml) shiitake mushrooms, stems removed (halved, or sliced if mushrooms large)
4 cups (1 L) cooked brown rice, hot (cooked according to package directions)
½ cup (125 ml) shelled edamame beans, blanched and kept warm
¼ cup (60 ml) green onions, thinly sliced
1 tbsp (15 ml) toasted black sesame seeds
Instructions
Preheat oven to 325 F (170 C).
Place salmon portions on a parchmentlined baking sheet. Season with salt and pepper and spread 1 tbsp (15 ml) of teriyaki sauce on each piece. Bake for 10 to 15 minutes, or until desired doneness.
Toss kale with sesame oil, set aside.
In a medium frying pan, melt butter over medium heat. Sauté mushrooms with salt and pepper, to taste. Cook until fully cooked through, about 5 minutes. Then add 1 tbsp (15 ml) of teriyaki sauce and mix. Keep warm.
In each serving bowl, add 1 cup (250 ml) of rice, 1 piece of salmon, then divide kale, mushrooms and edamame beans. Drizzle with remaining teriyaki sauce and garnish with green onions and black sesame seeds.
Drink Pairings