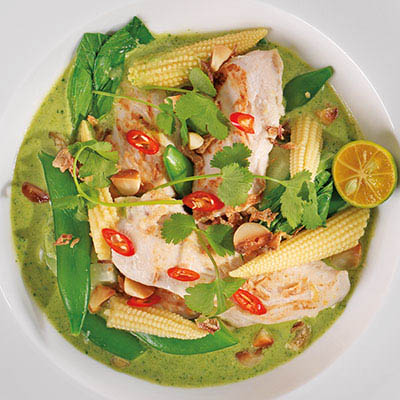 THAI GREEN CURRY WITH CHICKEN
Ingredients
Serves 4
4 chicken breasts, cut in half
4 tsp (20 ml) chopped garlic, divided
4 tsp (20 ml) chopped ginger, divided
3½ tsp (17.5 ml) sugar, divided
3 tbsp (45 ml) fish sauce, divided
1 tbsp (15 ml) coconut oil
3 tbsp (45 ml) green curry paste, or to taste based on preferred spice level
2 x 13.6 oz (403 ml) cans coconut milk
1 stalk lemongrass, crushed
2 Thai red chilies, whole, to taste (optional)
⅓ cup (75 ml) chopped fresh cilantro, plus more for garnish
2 limes, 1 juiced and 1 cut into 4 wedges
2 tbsp (30 ml) toasted macadamia or cashew nuts, crushed, plus more for garnish
2 tbsp (30 ml) fried shallots
cooked jasmine rice, to serve
Instructions
In a small bowl, mix chicken breast with 2 tsp (10 ml) each chopped garlic and ginger, cornstarch, ½ tsp (2.5 ml) sugar, and 2 tsp (10 ml) fish sauce. Cover and let marinate in refrigerator for at least 30 minutes, preferably overnight, up to 2 days.
Heat a medium to large heavybottomed saucepan over medium-high heat. Add coconut oil, then add chicken in a single layer and sear until golden brown on all sides, about 5 minutes total. Remove chicken and set aside.
Place saucepan back on burner and turn down heat to medium. Add remaining 2 tsp (10 ml) chopped garlic and ginger and curry paste. Fry until curry paste becomes fragrant. Add coconut milk, 2 tbsp (30 ml) fish sauce, 2 tsp (10 ml) sugar, galangal, lime leaves, lemongrass and 1 chili (if using, and to taste). Bring curry to a boil, then turn down heat and simmer for 30 minutes. Remove lime leaves, galangal and lemongrass and discard. Add chicken and simmer for another 5 minutes, or just until chicken is cooked through and juices run clear.
In a blender, blend chopped cilantro, green onions, lime juice, remaining 1 tsp (5 ml) each of fish sauce and sugar and remaining 1 Thai chili, if using, until it is a smooth purée. This cannot be made ahead of time, or it will lose its bright green colour. Stir this into curry immediately before serving. Garnish with remaining cilantro, nuts, fried shallots and lime wedges. Serve with jasmine rice.
Drink Pairings