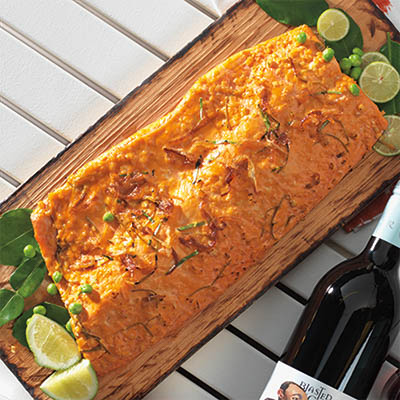 Ingredients
Serves 6
14-in (35 cm) cedar plank
1¼ lb (300 g) side of salmon, coho or sockeye, pin bones removed, skin on
¼ cup (60 ml) coconut cream
2 tbsp (30 ml) extra-virgin olive oil, divided, plus extra
1 tbsp (15 ml) fish sauce
1 tbsp (15 ml) Thai red curry paste
1 tbsp (15 ml) maple syrup
2 tbsp (30 ml) minced fresh cilantro
1 kaffir lime leaf, very thinly julienned
fresh steamed peas, fried onions, kaffir lime leaves and limes, for garnish (optional)
Lentil Salad, to serve (Separate Recipe)
Instructions
Soak cedar plank in water for a minimum of 2 hours, preferably overnight.
Rinse side of salmon under cold water and pat dry with paper towels. Place on a cutting board. Lightly score flesh of salmon diagonally, about 1-in (2.5 cm) apart. Then score flesh in very shallow lines in opposite direction to cause a criss-cross effect. Set aside.
Finely mince white part of lemon grass, then add to a small bowl and combine with coconut cream, 1 tbsp (15 ml) of olive oil, fish sauce, curry paste, maple syrup and juice of 1 lime. Stir to blend. Stir in minced cilantro and julienned kaffir lime leaf. Lightly brush scored salmon with half the glaze.
Preheat barbecue to medium heat and place soaked cedar plank, rough-side down, directly over heat. Close lid. When wood begins to smoke, about 3 or 4 minutes, brush top side of plank with olive oil. Add glazed salmon to plank, skin-side down. Close lid and cook salmon until flesh is opaque and flakes easily with a fork, about 30 minutes. Baste with remaining glaze a couple of times during cooking. Keep a spray bottle with water handy in case cedar plank flames up and needs dousing.
Remove cedar-planked salmon with ovenproof gloves, and then with a spatula transfer salmon to a serving tray. Drizzle with a little oil. Squeeze more lime juice over top and garnish with fresh steamed peas, fried onions, kaffir lime leaves and limes, or as preferred. Serve immediately, with Lentil Salad.
Drink Pairings