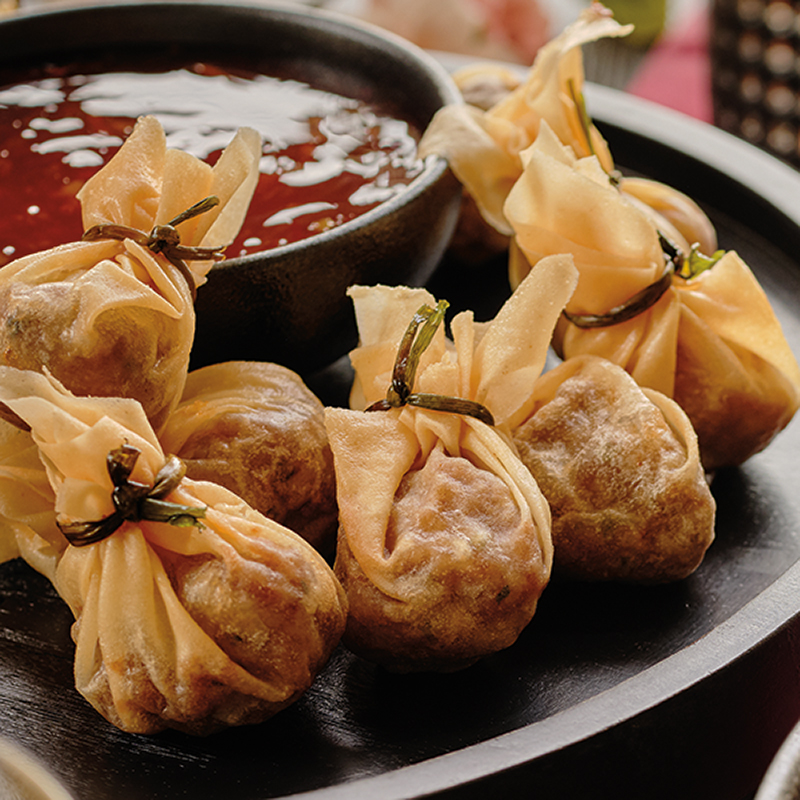 THAI MONEYBAGS
A multicultural potluck to celebrate Lunar New Year.
Ingredients
Serves Makes 20 moneybags
1 tsp (5 ml) minced ginger
1 bird's eye chili, minced
2 tsp (10 ml) cilantro stems, minced
3 shiitake mushrooms, minced
1 tbsp (15 ml) fish sauce
1 package (50 sheets) 5-in (12 cm) spring roll wrappers
sweet chili sauce, to dip
Instructions
In a medium-size mixing bowl, add pork, ginger, garlic, chili, cilantro, shiitake, fish sauce, sugar and soy. Mix well, about 5 minutes.
Spoon a heaping teaspoon (about 5 ml) of pork mixture into middle of a spring roll wrapper. Gather together edges of wrapper like a purse and tie with a chive. Set aside and repeat with remaining filling.
Heat enough oil in a saucepan or wok to deep-fry, about 4-in (10 cm), over medium heat until it reaches 375 F (190 C).
Deep-fry money bags in batches until golden brown and cooked through, about 3 to 4 minutes, or until internal temperature of each bag reaches 160 F (71 C). Drain and serve with sweet chili sauce.
Drink Pairings