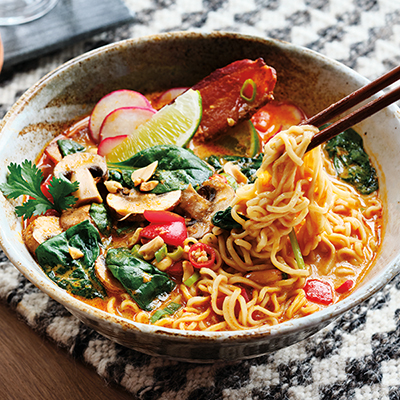 Ingredients
Serves 4
4 cups (1 L) no-salt-added chicken stock
1 x 14 oz (398 ml) can coconut milk
¼ cup (60 ml) low sodium soy sauce
2 tbsp (30 ml) fish sauce
ƒ cup (75 ml) creamy peanut butter
3 tbsp (45 ml) Thai red curry paste
8 oz (250 g) cremini mushrooms, sliced
2 red bell peppers, seeded and chopped
1 tbsp (15 ml) finely grated fresh ginger
12 oz (340 g) ramen or egg noodles
3 cups (750 ml) baby spinach
2 tbsp (30 ml) roughly chopped Thai basil leaves
2 tbsp (30 ml) roughly chopped cilantro leaves
1 tbsp (15 ml) freshly squeezed lime juice
3 small radishes, thinly sliced
2 green onions, thinly sliced
ƒ cup (75 ml) chopped peanuts
2 red Thai chilies, finely sliced (optional)
toasted sesame oil, to serve
Instructions
In a large saucepan over medium heat, combine 3 strips bacon, chicken stock, coconut milk, soy sauce, fish sauce, honey, peanut butter and curry paste. Bring to a simmer. Add mushrooms, peppers, ginger and garlic. Simmer, stirring occasionally, for 15 minutes, until mushrooms and peppers have softened.
Remove bacon and pat dry. In a lightly oiled large frying pan over medium heat, cook bacon in batches (including bacon removed from soup) until well browned, about 5 minutes. Cut each strip in half widthwise and set aside until ready to serve.
Cook noodles according to package instructions. Divide between serving bowls.
Stir spinach, basil and cilantro into soup before ladling over noodles. Garnish each bowl with radish, green onion, peanuts, chilies (if using) and reserved bacon. Serve with a drizzle of toasted sesame oil and lime wedges.
Drink Pairings