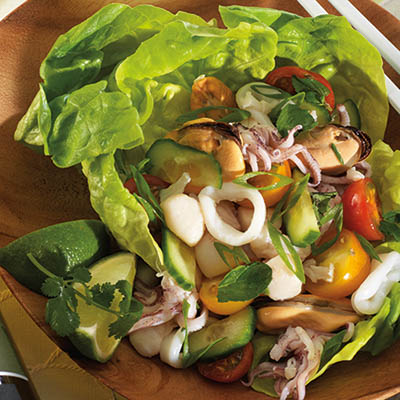 Ingredients
Serves 4
6 tbsp (90 ml) fresh lime juice
4 to 5 tbsp (60 to 75 ml) fish sauce
1 tbsp (15 ml) granulated sugar
1 small Serrano chili, seeded and minced
4 medium-sized prawns, shelled and deveined, tails intact
½ lb (250 g) cleaned squid, cut into ½-in (1.25 cm) rings, tentacles halved if large
½ lb (250 g) sea or bay scallops
¼ lb (125 g) cooked fresh crabmeat
2 cups (500 ml) bite-sized pieces Boston or Bibb lettuce, rinsed and dried
1 large shallot, peeled and finely sliced
4 green onions, thinly sliced
1 small handful cilantro sprigs, rinsed and dried
1 small handful fresh mint, rinsed and dried
½ English cucumber, halved lengthwise and sliced into thick half-moons
½ cup (125 ml) halved cherry tomatoes
Instructions
To make DRESSING: In a small mixing bowl whisk together lime juice, fish sauce, sugar, minced chili and olive oil. Stir to dissolve sugar. Set aside.
For SALAD: Scrub mussels under cold water and place in a mediumsized saucepan. Add about ½ cup (125 ml) water, just enough to cover bottom of pan, cover with lid and set over high heat. Bring to a boil and cook until shells have opened, 1 to 2 minutes. Remove from heat and allow to cool. Remove cooked mussels, discarding any unopened ones, and place in a medium-sized bowl. Discard shells and cooking liquid.
To cook remaining seafood, bring salt and 12 cups (3 L) water to a boil. Add prawns to boiling water and cook until pink on outside and opaque inside, about 2 minutes. Remove with slotted spoon, draining well on a clean tea towel, and transfer to bowl with mussels.
Bring water back to a boil and add squid. Cook until firm and rings turn bright white, about 1 minute. Remove with slotted spoon, drain well on tea towel and add to cooked seafood.
Bring cooking water back to a boil and cook scallops just until cooked through, about 1 minute for bay scallops, 2 minutes for sea scallops. Remove and drain before adding to seafood bowl.
Add crabmeat to seafood bowl.
To serve, arrange lettuce on a large serving platter or chilled serving plates. Add remaining ingredients to seafood and drizzle with dressing. Gently toss and arrange on top of lettuce beds. Drizzle any remaining dressing over salad.
Drink Pairings