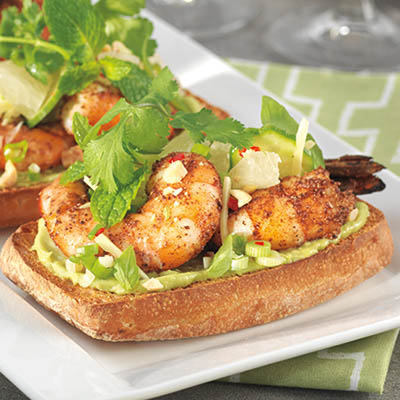 THAI-SPICED GRILLED PRAWNS ON CIABATTA
Ingredients
Serves 4 open faced sandwiches
1 tsp (5 ml) coriander seeds
1 tbsp (15 ml) salt, plus extra, to taste
1 avocado, pitted, peeled and chopped
2 tbsp (30 ml) fresh lime juice
12 large prawns, peeled and deveined
1 tbsp (15 ml) extra-virgin olive oil
¼ pomelo, peeled and pith removed before cutting into 1-in (2.5 cm) pieces
¼ English cucumber, cut into thin rounds
2 tbsp (30 ml) roasted peanuts, chopped
2 tbsp (30 ml) small mint leaves
2 tbsp (30 ml) fresh basil leaves, roughly torn
½-in (1.25 cm) piece of gingerroot, peeled and julienned
1 tsp (5 ml) finely chopped lemon grass
1 green onion, finely sliced
½ bird's eye chili, seeded and finely chopped
2 ciabatta rolls (or small baguettes), halved and toasted
Instructions
In a small frying pan over medium heat, toast first 6 ingredients until fragrant, about 5 minutes. Remove from heat and cool to room temperature before finely grinding in spice grinder or mortar and pestle. Stir in salt and set aside.
In a blender or small food processor, combine avocado, lime juice and a pinch of salt until smooth. Set aside.
Preheat a grill or grill pan over medium-high heat.
In a bowl, toss together prawns, oil and prepared spice mix. Grill prawns until cooked through, about 1 minute per side, and set aside.
In a large bowl toss together pomelo, cucumber rounds, peanuts, mint, cilantro, basil, ginger, lemon grass, green onion and chili.
To serve, spread each toasted ciabatta half with prepared avocado cream and top with prawns and some pomelo salad. Serve immediately.
Drink Pairings